People have long relished the beauty, resiliency and durability of solid wood furniture. From the richness of oak to the modern appeal of maple and other wood species, solid wood furniture is a staple in many Canadian homes. But with any natural material, it is important to keep it maintained and looking its best.
Why Wood?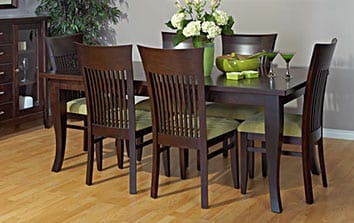 There are many reasons why solid wood furniture remains one of the most sought-after, luxurious materials, even with the advent of new, man-made interior design products.
Solid and Durable
Solid wood is just that: solid. Often solid wood pieces are passed down from generation to generation. Their ability to be refinished and revitalized makes them unique in their ability to stand the test of time.
Character & Charm
Unlike other furniture, solid wood pieces are not usually mass-produced. Each piece contains its own personality – the planks or pieces of wood chosen are individual and contain textures and precise wood grains that make the piece special and unique.
Overall Better Value
Although wood furniture may have a higher upfront cost, it is a wise long-term investment. If you purchase a classic, timeless piece you love, you will own it for decades.
Cleaning and Dusting
You fell in love with your solid wood piece and made the investment. Now it is time to protect that investment. With the proper care, it can last a lifetime in its original condition. Perhaps even longer.
Dusting
It is extremely important to regularly dust your wood surface. If layers of dust accumulate on the surface, it can cause micro-scratches in the wood that over time, cause visible wear on the surface and destroys the finish, especially a high-gloss finish.
For best results, use a soft cloth or duster dampened with water (note: you never want your wood to be 'wet' but a little water can go a long way), then dry with a clean dry cloth or spray with a quality wood polish that is silicone free. Be sure to polish the wood in the same direction as the grain for optimal results.
We recommend dusting your wood surfaces about once a month, more often if in arid, dry climates or dusty conditions.
Cleaning
When something spills on your wood surface – food, ink or the like, it requires fast action. Although you never want standing water to seep into your wood, a damp soft cloth is an excellent way to clean your wood. But make sure you dry thoroughly with a soft cloth. You can then proceed to finish with a fresh polish over the entire surface of the piece.
When you have a wood product that is coupled with leather or fabric, be vigilant when cleaning the piece. Carefully clean or polish each material with different products as required, ensuring cleansers do not overlap.
Products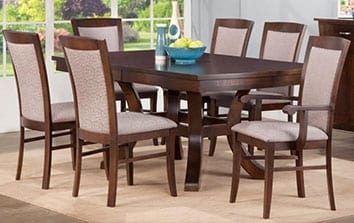 With wood, less is more. The beauty of this natural material is that it does not require a lot of maintenance, or expensive products to keep it preserved.
Many will say a slightly damp soft cloth and a high quality wood polish is all you will ever need. However, it is best to know how your wood is finished when you are purchasing so that you know best how to maintain it.
Oils
From danish to tung, hemp seed to essential, a wide range of oils are used to bring out the natural grain and beauty of wood. Oils can be a good option for both protection and shine, just apply sparingly and then buff with a soft cloth.
Wax
Depending on your wood type and finish, wax can be an excellent protectant. One of the most commonly used wood wax is paste wax, naturally-derived from Carnauba palm trees. It can protect the surface of your wood from scratches and stains while bringing a lustre back to a dull finish. Beeswax is another excellent option, a natural, environmentally-friendly product that protects, seals and restores wood's natural beauty.
Tools
There are several cleaning tools that are safe to use on your wood surface. These typically won't scratch the surface, leave unwanted streaks or a filmy residue. Some of our favourites include:
Soft, lint-free cloths or shammy
Traditional feather or lambswool dusters
Soft cloth materials, such as an old tee-shirt or other soft cotton fabric
Avoid using abrasive materials, including towels, napkins, flatweave cloths or sponges.
TIP: Always clean your cloth or duster after every use. When dirty, additional dust particles cannot adhere, leading to possible scratches and abrasions on your wood surface.
Caring and Maintenance
As stated, wood is enduring, making it a favourite household design material. In addition to regular and proper dusting and cleaning, here are a few more things you can do to preserve your solid wood furniture for years to come.
Water
As stated, tiny amounts of water can go a long way in maintaining and cleaning your wood surface. However, any water past a damp cloth can quickly turn into your wood's antihero.
Plastics and Rubber
It is also advisable to avoid placing plastic or rubber materials atop your wood surface. The chemicals in things like plastic placemats or rubber-bottomed lamps can leech into and eat away at the wood, compromising its rich beauty.
Spatial Considerations
Before you decide on the perfect design and arrangement of your new piece, here are a few space placement tips that can help sustain the life of your solid wood furniture.
Humidity
Wood is a living, breathing material. As such it expands and contracts, shrinks and grows according to its climate and environment. It is important, especially if you live in arid or high altitude climates, to ensure you have the proper humidity levels in your home. Whether it be via a furnace humidifier or a stand-alone, a moderate level of humidity can prevent warping and cracking of your wood furniture.
Sun
It is important to keep your wood furniture away from direct sun. Not only will heat and UV rays warp the wood, but it can also bubble the surface and dry out the moisture level, which can lead to cracking.
Vents and Fireplaces
Heating vents and fireplaces push out warm or hot air that can wreak havoc on wood materials. Keep your wood items in a safe distance from heating vents or fireplaces to prevent warping, drying, and cracking.
Following the above tips will keep your treasured solid wood furniture maintained, preserved and beautiful for years to come.