Your living room is one of the most important rooms in your home. It's where your friends and family gather and create memories for years to come, which is why it's so important to have a living room you can enjoy.
As you can probably guess, how you organize the furniture within your living room can have a direct impact on how you feel in your home. While decorating a living room can be complex on its own, it can get even more difficult if your space is a little awkward or unconventional.
Don't worry, even if it seems impossible, there's a way to decorate any room in your home, no matter how awkward you may think it is. Keep reading to learn how to get the most out of your living room.
The Importance of a Living Room
Living rooms need to be one of the most versatile spaces in your home, depending on what you use it for, how often you use it, and your aesthetic. It can be a casual space, a place to entertain, but most importantly it's a place to relax with the ones you love the most.
Other than your kitchen, your living room is probably where you and your family spend the bulk of your at-home time together. No matter what you use your living room for, having a room you love can help you feel comfortable, happy, and at peace in your home.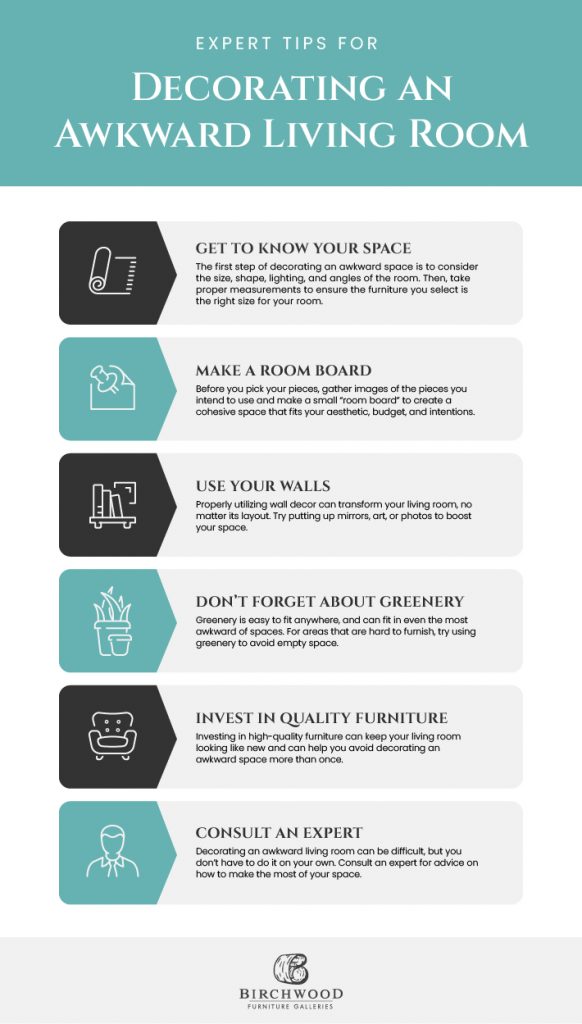 Pro Tips for Decorating an Awkward Living Room
While the process of decorating your living room may feel like a big task, designing a space that will appeal to you and your family is important. If you have an awkward living room, it may feel even more difficult.
Here are some tips to help you decorate your living room so you and your family can have a space you truly enjoy.
Get to Know Your Space
The solution to an awkward living room is truly knowing your space and arranging your furniture to adapt to it. Before you even think about what type of furniture to buy, consider the size, shape, lighting, and angles of the room.
Then, the next step is to take proper measurements. Knowing the measurements of your space will ensure you select the correct size of furniture and can save you both time and money. There's nothing worse than bringing furniture home and then having to return and replace it.
Make a Room Board
Once you know your living room, you can begin thinking about what type of furniture you'll use to make the most of it. Before you pick your pieces, gather images of the pieces you intend to use and make a small "room board" to create a cohesive space.
When making a room board, consider the following:
What are your intentions with the space?
What is your budget?
What is your wanted aesthetic?
These questions can help you decide which direction you want to go with decoration.
Use Your Walls
Wall decor is essential in a living room and can help you add character to any space, no matter its layout.
For example, if your living room has poor natural light, you can use a wall mirror to reflect sunlight. Or, if you have an awkward empty wall, you can hang a large piece of art or install a gallery wall.
Don't Forget About Greenery
Greenery is a great finishing touch in any room. Not only does greenery add freshness, but it's also easy to fit anywhere, even taking up space in a corner that's hard to furnish.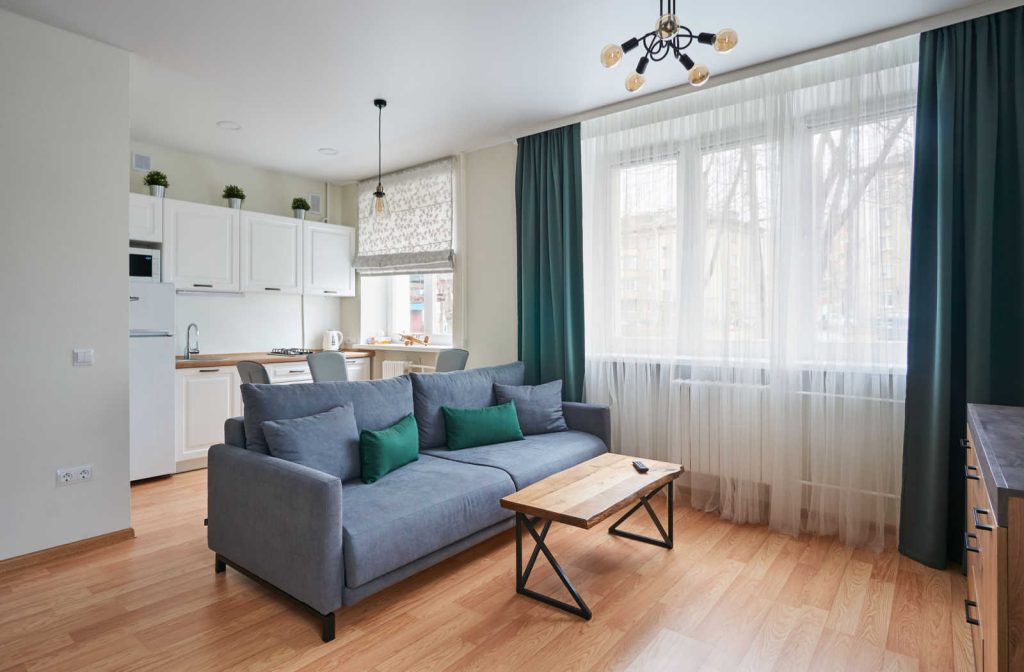 Invest in Quality Furniture for a Living Room You'll Love
Nothing ruins a good living room like having furniture that falls apart in a few months. Investing in high-quality furniture can keep your living room looking like new.
When redecorating a room, you may be tempted to go for the less pricey piece, but investing in high-quality furniture is more cost-effective in the long run. With the right furniture, you can reduce replacement and repair cost, while avoiding having to decorate an awkward living room more than once.
Consult an Expert
At Birchwood Furniture Galleries, our experts know everything there is to know about quality furnishings and how they can transform your space. We can help you find the right pieces for your living room and give your advice on how to arrange it. If you have any questions about decorating your living room, please give us a call!