When it comes to furniture, choosing high-quality, expertly-crafted pieces can have your family enjoying them for generations.
What your furniture is made of can impact its durability, the price, and how likely it can be customized to your vision and style. When it comes down to it, high-quality furniture is made from high-quality materials.
Comparing wood veneer and solid wood pieces may not be outwardly noticeable from a distance, but the most significant difference you'll see is on the price tag— and there are advantages and disadvantages to choosing either one.
The team at Birchwood Furniture can help you determine the material and type of wood right for your budget and lifestyle.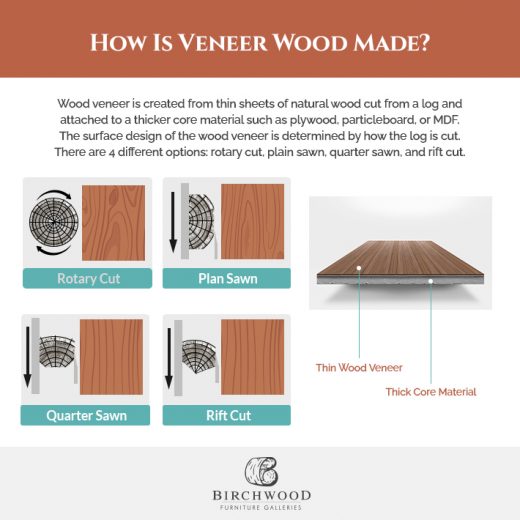 Wood Veneer: Advantages & Disadvantages
Wood veneer is created from thin sheets of natural wood, typically 1/40" or less thick, that gets attached to a thicker core material. Common core materials include plywood, particle board, or medium-density fibreboard (MDF).
Veneer wood can be cut 4 ways, each offering a different design:
Rotary cut—the thin sheet of wood is cut by rotating the log against the knife
Plain sawn—the log is cut parallel to the centre
Quarter sawn—the log is cut into quarters before slicing the thin sheet
Rift cut—the wood is cut at a slight angle to produce a straight grain
Advantages of Veneer Wood
There are plenty of benefits to using and choosing veneer wood. Since only thin sheets are cut from a log of a mature tree, veneer wood is an efficient and environmentally friendly option. One tree can provide around 40 times more decorative surface area compared to a 1" board of natural, solid wood. This also makes veneer wood a cost-effective option for a budget-conscious shopper.
Veneer wood also offers a variety of design options. It allows you to choose a type of wood that may be unable to be used in its solid form. Each sheet of wood veneer has a unique pattern, and rare or exotic veneer woods become more affordable than if you opt for a solid wood option.
Compared to solid wood, wood veneer is lightweight and easily moveable, making it a suitable option for furniture pieces that get moved around often.
Disadvantages of Veneer Wood
Though there are plenty of advantages, it's important to keep in mind the disadvantages when choosing wood veneer for your furniture.
Since veneer wood is a thin product, prolonged exposure to water can cause substantial damage. Veneer wood is also prone to cracks due to the material used underneath expanding and contracting at a different rate than the wood.
Repairs can be quite costly and may require the whole surface to be replaced. There are also many cases where the veneer wood may not be able to be repaired at all.
Solid Wood: Advantages & Disadvantages
Solid wood furniture is directly sourced from fallen or cut-down trees and made of 100% natural wood that gets sanded and finished into the final piece.
Advantages of Solid Wood
Solid wood offers an elegance to your home that never goes out of style. Pieces made from solid wood are timeless in design and can be passed down through generations due to their durability and strength.
Solid wood can also be easily repaired and maintained. Scratches or damages can be sanded and refinished, so your furniture can return to its original beauty. This allows older antique pieces the ability to be restored and used once again.
When designing your living space, choosing solid wood allows for customizable design options, including the type of wood, staining, and specialty finishings.
Disadvantages of Solid Wood
As with wood veneer, there are some disadvantages when considering pieces made of solid wood. Most notably, solid wood options are more expensive compared to wood veneer. A higher initial cost can also be seen as an investment due to the long lifespan of solid wood products.
Solid wood may be durable, but it is not indestructible. Products made of solid wood can be susceptible to moisture damage. The wood can swell if moisture is present and soaks into the wood.
Excess exposure to sunlight can cause discolouration if a protective top coat has not been applied, and dry climates can cause natural wood to shrink or crack. Speaking with the furniture experts at Birchwood Furniture can give you the information needed to best take care of and maintain your solid wood pieces.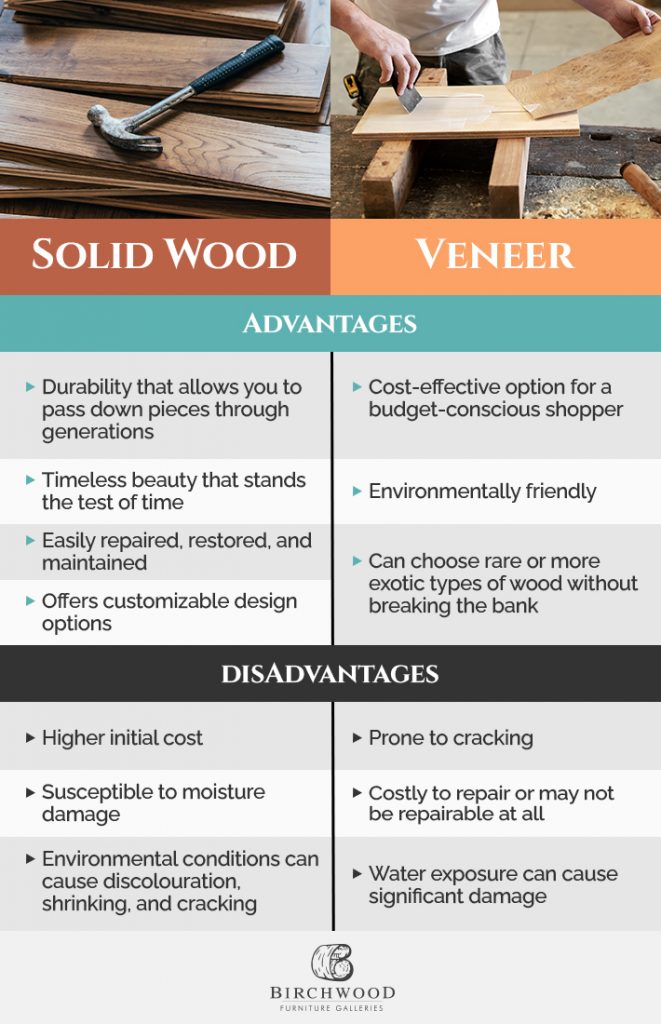 Find Your Perfect Piece at Birchwood Furniture
When weighing out your options, lean on the team at Birchwood Furniture for the guidance and support to make a well-informed decision for your design, home, and budget. Whether you're looking for pieces that are durable and made to last or furniture that is cost-effective, solid wood and wood veneer offer plenty of advantages.Check out the beautiful hand-crafted pieces at the Birchwood showroom, or browse our catalogue for a wide selection of furniture to choose from.