Buying new furniture for your home or office can be incredibly exciting. Choosing and styling some of your favourite pieces exactly how you want is a great experience, but also one that can be ruined when low-quality furniture breaks or fabrics wear down much faster than you may have anticipated. If you have ever sat on a chair that feels wobbly or uncomfortable, you would probably appreciate a few tips of things to look for when shopping around.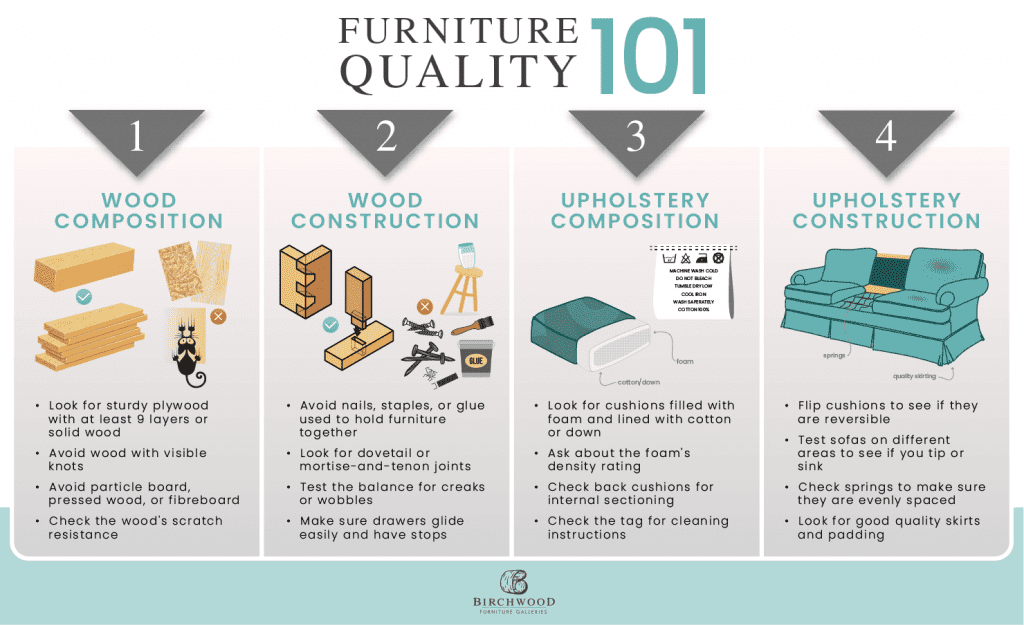 Composition vs. Construction
When buying furniture, there are 2 key elements to consider: composition and construction. Composition refers to the piece's materials and construction is how the piece was built. Both go hand-in-hand, as a well-assembled piece made of poor quality materials will show wear and tear just as quickly as a piece made of high-quality materials that was put together quickly or cheaply.
Wood Composition
The type of wood your furniture is made out of makes a huge difference in how long it will last you. If you are looking for pieces that you can enjoy for many years, be sure to seek out top-quality wood.
When shopping for wood furniture, avoid particle board, pressed wood, or fibreboard. These are low-quality wood replacements and will not last long before showing significant wear and tear. Also, take note of how easily the wood dents or scratches. Using a fingernail on a place not visible is a good way to assess its scratch and dent resistance.
You may also come across veneers, a thin piece of premium wood covering lower-quality wood. Furniture may look good at first sight, but be sure to check if the base piece is solid wood. Keep in mind that furniture with veneers will limit refinishing options and may peel off over time.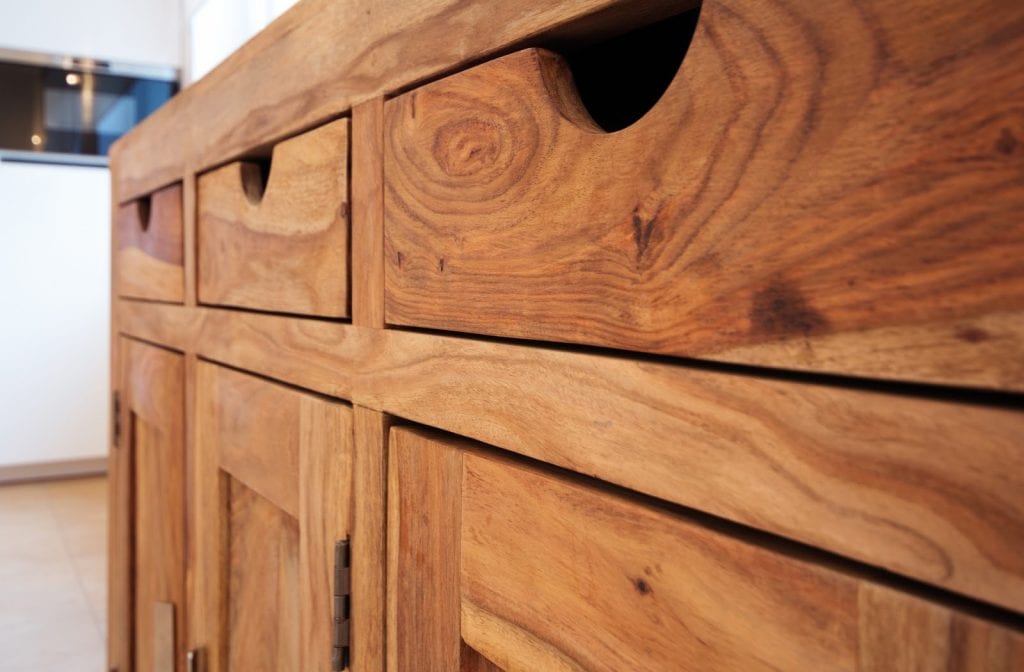 Wood Construction
The way your furniture is put together also plays a significant role in how long it will last you. Anything put together using staples or nails is poor construction and will falter or break easily. Glue is also a telltale sign of poor construction, especially if you can see the glue.
Properly constructed furniture is put together with dowels, small wooden pegs slotted into opposing holes, or screws. The best way furniture is put together is with specially-shaped interlocking wooden pieces. Dovetail or mortise-and-tenon are the strongest joints used in wood construction.
When looking at chests of drawers or nightstands, check for thin sheets of wood between drawers. These help protect the content of the drawers and improve the structural integrity of the piece. Good quality drawers should have floating bottoms and glide in and out smoothly with stops to prevent them from coming out.
Be sure to inspect your furniture closely. Lift the piece to see if it twists or creaks. Check the joints. See if all legs are touching the floor, and sit on it to make sure it does not rock or wobble.
Upholstered Furniture Composition
Sofas and chairs with cushions are fashionable, comfortable pieces to spruce up your living areas or office. As in wood furniture composition, you want to be sure the frame is made from solid wood or an engineered hardwood. Cushions should be filled with a block of foam wrapped in dacron or cotton. In high-end furniture, the foam may be wrapped in a feather (down) and fibre mix.
Cushions with just foam inside them can wear down very quickly becoming flat, unshapely and uncomfortable. You can ask about the density rating of the foam. Typically, 1.8 pounds and higher is preferable. Back cushions generally have a loose foam filling, but they should be separated into different compartments to keep it from settling. This way cushions can be fluffled and flipped to maintain their look.
Check the tag of your upholstered furniture for information on how to clean it. A 'W' indicates water-based cleaners, 'S' for solvent-based cleaners (or dry-clean only), and 'X' means vacuum only.
Upholstered Furniture Construction
Asking how your upholstered furniture was put together can save you some uncomfortable seating in the future. Ensure the furniture piece is constructed using combinations of staples, screws and glue for lasting stability. Springs of all kinds work great, as long as they are evenly spaced and offer the same resistance to pressure.
When testing out a sofa, sit in various spots and positions to see if you tip or sink, especially in the corners. If the cushions are removable, you can run your hand along the deck underneath that houses the springs to see if they are uniform.
If you can find upholstered furniture with reversible cushions, you will get twice the wear out of them. Test them out to see if the pattern matches up on both sides. Also take a look at the skirts and padding. Good quality skirts are weighted or lined, and you should not feel the skeleton of the furniture through the padding on the arms or back.
Trust a Reputable Furniture Gallery
The best way to guarantee you are getting the best possible quality for your furniture is to trust a reputable gallery. A gallery that displays and sells only locally-made, high-quality furniture is sure to give you a great selection of beautiful pieces that you can feel confident will last you.
Whether you need furniture for your living room, office, dining room, or just want an update, Birchwood Furniture Galleries is your local source. From solid wood dining tables to elegant loveseats, you are sure to find the perfect piece to complete your room just how you want it.