When selecting furniture, there are many factors to consider, including how it's made and material. You want high-quality furniture to last for years, which is a major benefit of leather products.
Before you invest in leather furniture, it's important to know what to look for to find a quality item. As there are several aspects to keep in mind, consider this your guide to buying high-quality leather furniture.
What is Leather?
This may seem like a simple question, but before you can buy quality leather furniture, understand the different types of leather. Common varieties of leather are known as full-grain, top-grain, corrected grain, and bonded leather. These are all sourced from different layers of a cow's hide.
Full-Grain
Full-grain leather comes from the outer layer of the hide. This leather is formed by simply removing hair present on the skin. The process leaves natural markings on the skin such as scratches, insect bites, and stretch marks intact and visible.
Because the grain is not treated, this type of leather is strong, durable, and resists moisture effectively. Full-grain leather is typically highly sought after and it is often said it gets better with time.
Top Grain
Think of top grain leather as "buffed" or "sanded" leather. The imperfections present on the hide are removed through treatment, so they're "buffed out." This leather is thinner than full-grain but is still incredibly durable. A finishing coat is typically applied to provide a cooler feeling to the leather.
Many people choose top-grain leather because products have a more affordable price-point without sacrificing durability. It is still top-quality leather and can be more readily available than full-grain.
Corrected Grain
This type of grain can refer to any leather altered from its original hide. Corrected grain is altered similarly to top-grain leather, but it does not utilize the original look of the hide. Imperfections within the hide are removed through sanding, and then a new, artificial grain is imprinted onto the leather. Corrected grain can also be referred to as split-grain, embossed leather, or split-leather.
This artificial grain has a more consistent look and is usually coated with a dye.
The quality of corrected grain leather can differ from each product depending on the amount of correction that was completed. A good rule of thumb is the less correction performed, the better the quality.
Bonded Leather
Bonded leather is considered to be of lower quality. It's made of coated, shredded leather scraps and is typically used for lower-end furniture. This type of leather may also be referred to as blended or reconstituted.
How the leather is prepared is not the only identification of its quality, as products are also graded depending on where its leather was sourced from.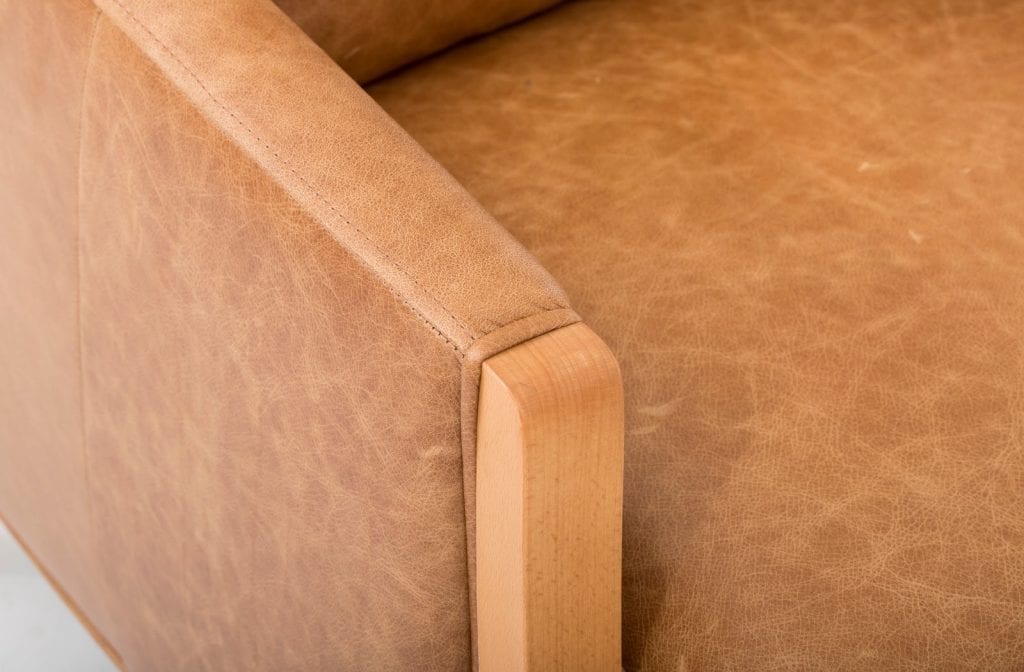 What is Genuine Leather?
It may come as a surprise, but the term "genuine" or "real" leather does not indicate a product's quality. Instead, these terms are used to describe if a product is made of real leather rather than faux.
What is Real & What is Faux?
Faux products can be a cheaper alternative, but if you're looking for high-quality leather, you need real products. There are a few ways to size up if the couch you're looking at is the real deal.
Look at the back of the item to see whether there is one piece of leather or many stitched together. The average hide is not very large, so a genuine leather couch will likely be made of several stitched-together pieces. If the couch is constructed by one solid piece, there is a good chance it's faux leather.
Check the label of the product, and it should feature detailed information regarding the type of leather used. You can ask a specialist for more information on a furniture piece if needed.
Finally, real leather generally has a warm and soft touch coupled with a unique smell. Faux leather can have a processed, chemical-like smell.
Everything But the Leather
The leather itself is incredibly important when it comes to buying high-quality leather furniture, but it's not the only aspect you should consider. The materials used throughout the product such as the frame, springs, and foam should factor into your choice.
The Frame
Your leather may be durable, but if the frame is not, your new couch will not last long. You want to make sure your product does not splinter and is made of a combination of securing materials (staples, screws, glue).
The Springs
If the springs in your sofa are lacking, you may experience sagging. Ensure your new furniture is supported by durable springs. Some extra support around the arms and ends of the product can prevent weakening.
The Foam
You want your cushions to stay comfortable, not flat or lumpy. Well-designed foam will hold shape for long periods and will not let you down. Its quality can be rated by density and firmness.
There are other options for cushion and seat filling including:
Foam & filling
Down plush
Innerspring
Doing your research is important to find quality furniture, but remember to follow your heart when picking what you think is best. No one understands their home needs better than you, and furniture decisions should be based on your needs.
Find the Right Furniture for You
These ideas serve as a guide to help you identify high-quality leather furniture, but the ultimate choice is yours. Follow these tips, but use your preferences and ideas to choose the right piece for your home. If you have questions about products or want more information, contacting your local retailer can help you make an informed decision.