Is your favourite piece of furniture starting to look a little dirty? Or perhaps you're in the market for a new item and are considering which would be easiest to clean. If you need advice on how to clean wood furniture, you are in the right place.
At Birchwood Furniture, we know how important it is to properly care for your furniture. Classic wood furniture never goes out of style, and cleaning it regularly can keep it looking new for years.
If you've tried to clean wood furniture before, you may notice your cleaner left behind streaks, warped the wood, or even caused discolouration. When it comes to wood furniture maintenance, it's important to follow specific steps to keep it looking its best.
Keep reading our blog article to learn more about cleaning your wood furniture to keep even decades-old pieces looking fresh through preparation, spot testing, wiping, polishing, and buffing.
The Importance of High-Quality Furniture
The right furniture can help make a house a home. This is why furniture holds a great deal of importance in our daily lives.
If you are looking to update a room, change your home's style, or renovate your space, you may consider buying a lower-cost item. With furniture, quality is everything, and investing in the right pieces can save you time, money, and stress down the road. Additional benefits of investing in high-quality furniture include:
Quality typically outlives trends
Value retention over time
Higher-end materials improve comfort
Increased durability & longer lasting
Less required maintenance & cleaning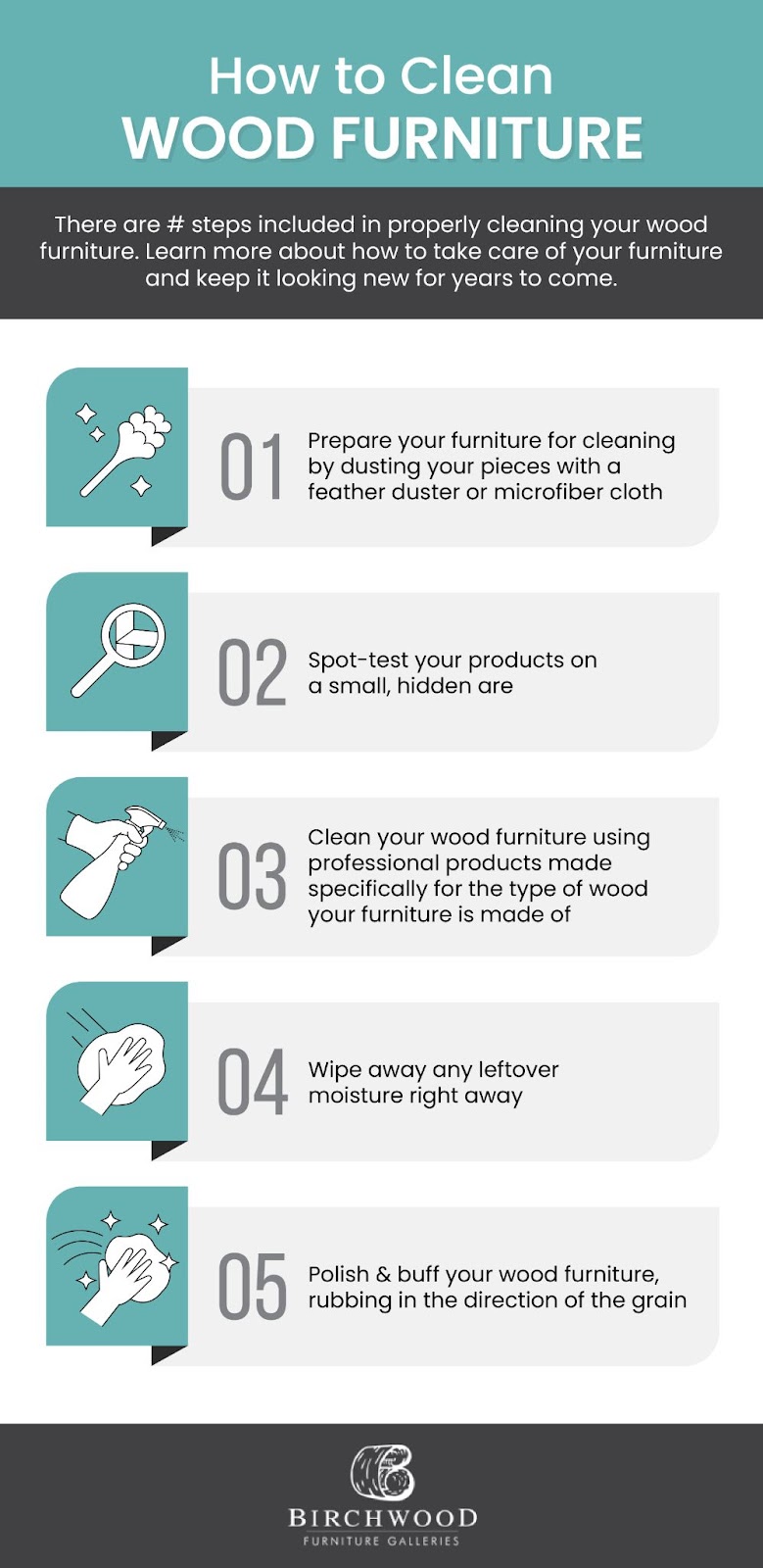 How to Clean Your Wood Furniture
When it comes to wood furniture, it's essential to use the right cleaning products to ensure you don't damage the wood.
Many articles suggest using household cleaners and solutions to clean your wood furniture, but this can cause staining and warping, affecting your wood furniture irreparably. To properly clean dirty wood furniture, use high-quality products made for the specific type of wood you own and follow these steps:
Prepare your furniture for cleaning by dusting your pieces with a feather duster or microfiber cloth.
After spot-testing on a small, hidden area, clean your wood furniture using professional products made specifically for the type of wood your furniture is made of.
Wipe away any leftover moisture right away.
Polish & buff your wood furniture, rubbing in the direction of the grain.
Types of Wood Furniture
How you clean your wood furniture, and what products you use, depends on the type of wood your furniture is made of. Learn more about the different types of hardwoods and softwoods commonly used for furniture.
Common types of hardwoods used to make furniture include:
Red oak
Walnut
Mahogany
Ash
Birch
Maple
Cherry
Beech
Common types of softwoods used to make furniture include:
Pine
Red cedar
White spruce
Larch
Western hemlock
Before cleaning any furniture, read the product label to ensure it's intended for use on the type of wood your furniture is. Then, make sure to spot-test it on a small, unseen area, to ensure it doesn't cause damage.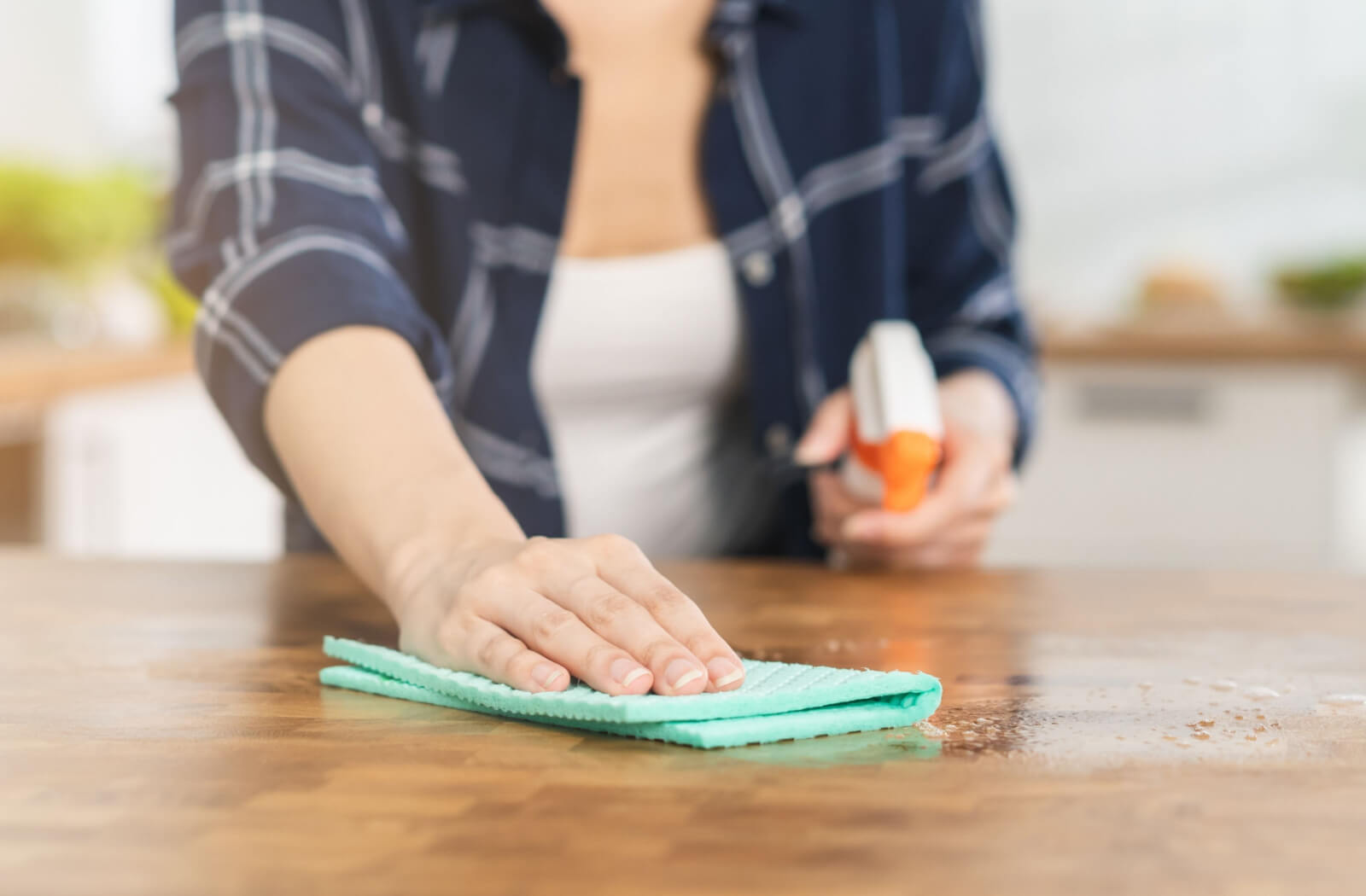 How Often Should You Clean Wood Furniture?
To keep wood furniture in its best shape, it is important to maintain frequent cleaning. The longer dirt, grime, or stains sit on your furniture, the harder they can be to remove.
We recommend dusting your wood furniture weekly and cleaning it with professional wood cleaning products monthly. While optional, waxing or polishing your wood furniture pieces can give them a nice look and can be done every month and a half. If you choose to polish your wood furniture, make sure not to do it too often, as you risk damaging and weakening the surface of the wood.
We are Here to Help
Whether you need decorating recommendations, tips on how to clean your furniture, or help with any other home decor inquiries, our team at Birchwood Furniture is here to help you.
Visit our website to read our latest blog articles for tips and tricks, or contact us today.