When it comes to living room furniture, throw pillows, and accent cushions might sound like an afterthought, but they can completely change the look of a room.
Throw pillows can bring your decorating to the next level and make your home feel complete. But with all the possibilities of patterns, fabrics, sizes, colours, and textures, how do you know which pillows to pick? And how do you incorporate them into your overall design choices for a room?
At Birchwood Furniture, we believe that accessorizing with throw pillows is one of the easiest ways to add style into any room, and we're here to help you do it!
Keep reading to learn more about how to decorate any sofa by following a few simple rules.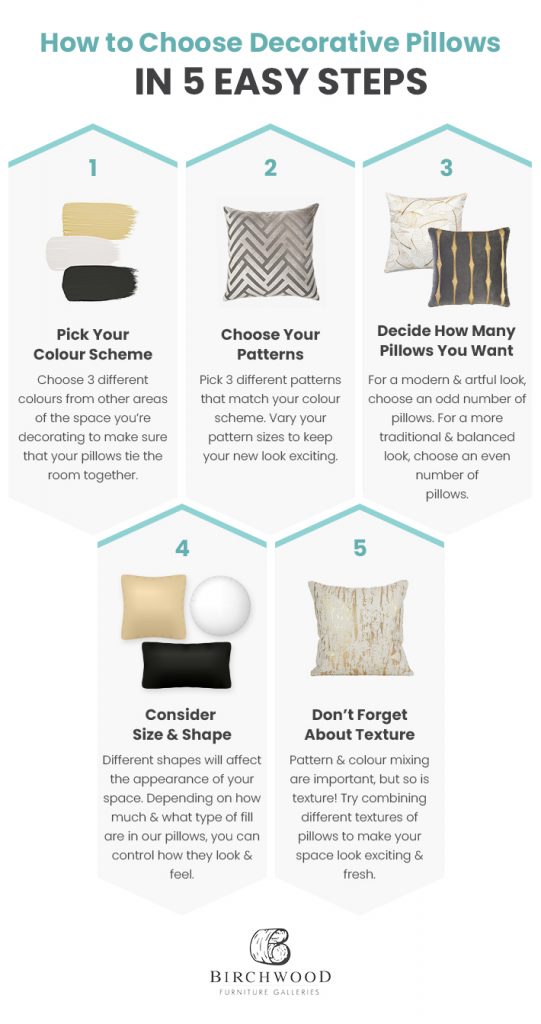 Decorating Your Sofa Like a Pro
The first thing to remember is that decorating your sofa doesn't have to be complicated. You can quickly achieve a professional and stylish look by following our easy guidelines.
The following tips will help you mix and match patterns, colours, and sizes, allowing you to quickly refresh any room with a coordinated and exciting look.
Pick a Colour Story
By choosing a colour story before you select your pillows, you're ensuring that the pillows you choose will tie in with the rest of your room. We find that it's best to use three different colours from other areas of the space you're decorating, such as the colour of the wall, rug, or curtains.
Pick Up to 3 Different Patterns
Just as we recommend you pick three different colours for your pillows, we also suggest picking three different patterns. But, of course, you can also mix and match any three patterns, as long as each design follows the colour story you have already chosen.
When picking patterns, you should aim to find a lead pattern and secondary patterns. A lead pattern will have a larger pattern and will stand out more compared to the secondary pattern. It's also essential to choose patterns that complement each other instead of clashing with one another. To avoid this, choose patterns in different sizes.
Vary Your Pattern Sizes
By varying pattern sizes, you're allowing one pattern to dominate. In general, you should choose:
A lead pattern with your most prominent pattern
A medium-sized print
A subtle pattern or solid colour
Decide How Many Pillows You Want
Another decision you'll have to make is how many pillows you want on each piece of furniture. Depending on the size of your furniture, we recommend two pillows per sofa or loveseat and one pillow per arm and corner on a sectional.
When choosing how many pillows you want, keep in mind that odd and even numbers can make a difference. For example, pillows in odd numbers look more modern and artful, while an even amount of pillows will look more traditional and balanced.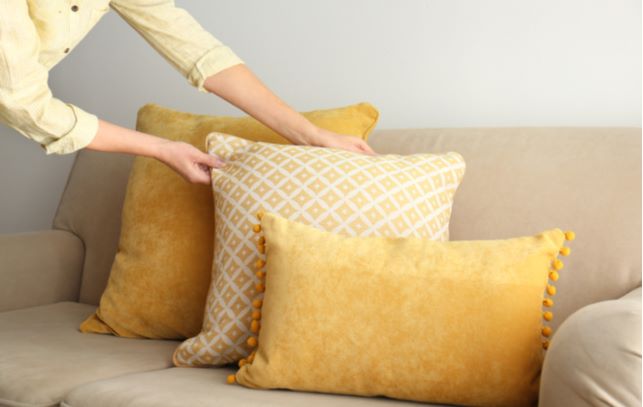 Think About Size & Shape
When shopping for decorative pillows, remember that different shapes will affect the appearance of your furniture and the room as a whole. One of the most important things when it comes to pillow shape is how much and what type of fill is in the pillow.
Depending on the fill of your chosen pillows, you can control things like how much they hold their shape, how comfortable they are, and how expensive or luxurious they look.
Don't Forget About Texture
Pattern and colour mixing are essential, but the texture is equally crucial to tying a room together. Try combining different textures like faux fur, velvet, linen, and knits to refresh a room. Different textures can add a creative feel to any room.
Have Fun!
At the end of the day, remember that decorating or redecorating a room should be fun! Choosing throw pillows should be an easy, inexpensive way to channel your creativity to transform the look of your home.
The best news is, pillows are such an easy thing to change, you can update the look of your home whenever you want!
If you have any questions or concerns about our products or how to style them, please give us a call at Birchwood Furniture. We are always happy to help!