When it comes to buying a new piece of furniture, there are a lot of things to consider. From price to material, there are a lot of factors that can impact your decision. With so many options on the market, it can be difficult to decide what piece of furniture will meet your needs, especially when it comes to material choice.
When it comes to leather furniture, there are lots of benefits. Leather is durable, comfortable, and has a long life if taken care of properly. But how do you get your leather furniture cleaned properly?
Keep reading to learn how to care for leather furniture so you can keep your new piece of leather furniture looking its best.
How to Clean Leather
When working with natural leathers, it is essential to clean them with care. Before cleaning your furniture, you should wipe away any debris with a microfibre cloth.
Next, you can use a leather cleaner to help remove dirt, debris, and stains from your furniture. To properly clean your leather furniture, use a cleaner that is:
An appropriate pH
Gentle yet effective
Specific for your leather type
If you do a quick google search, you'll see that many cleaning materials can clean leather, but some methods may end up damaging the fibres. To keep your leather in top shape, you'll want to find out what type of leather furniture you own and go from there.
The Different Types of Leather Furniture
There are 8 main types of leather furniture you can buy. They include:
Full-Grain Leather
This is the most authentic type of furniture leather you can buy. To keep the look and texture of the natural hide, it is minimally processed and undergoes no additional treatments. Full-grain leather is typically the most expensive leather furniture choice.
Top-Grain Leather
Top grain leather is very similar to full-grain leather but gets a little more polishing and buffing. This gives it a softer feel compared to full-grain leather while still being durable.
Split-Grain Leather
This type of leather has the outermost layer removed. Although it is less expensive, it can have a tougher feel and be more challenging to maintain than higher-quality leathers.
Bonded Leather
If you're looking for a less expensive option with an authentic feel, bonded leather might be the right option for you. This type of leather is made from a variety of leathers and bonded together using an adhesive.
Nubuck Leather
Nubuck leather is made using only rawhide. It is treated and sanded to give it a soft feel, almost to the effect of suede. If you have furniture made from nubuck leather, you should know that it is very fragile. In addition to cleaning and conditioning, you may want to look into waterproofing treatments to increase its longevity.
Bi-Cast Leather
Bi-cast leather is simply split-grain with additional coatings to make it look like top grain leather. It's a less expensive alternative if you like the look of top-grain leather. Unfortunately, Bi-cast leather is hard to maintain, and without proper care, it can peel and crack.
Faux Leather
Faux leather is a material made to look like leather without actually using any animal hides. It can look just as natural as authentic leather but typically is of lower quality and durability.
If you are unsure of what type of leather furniture you own, contact the manufacturer so you can ensure it's getting the proper maintenance it needs!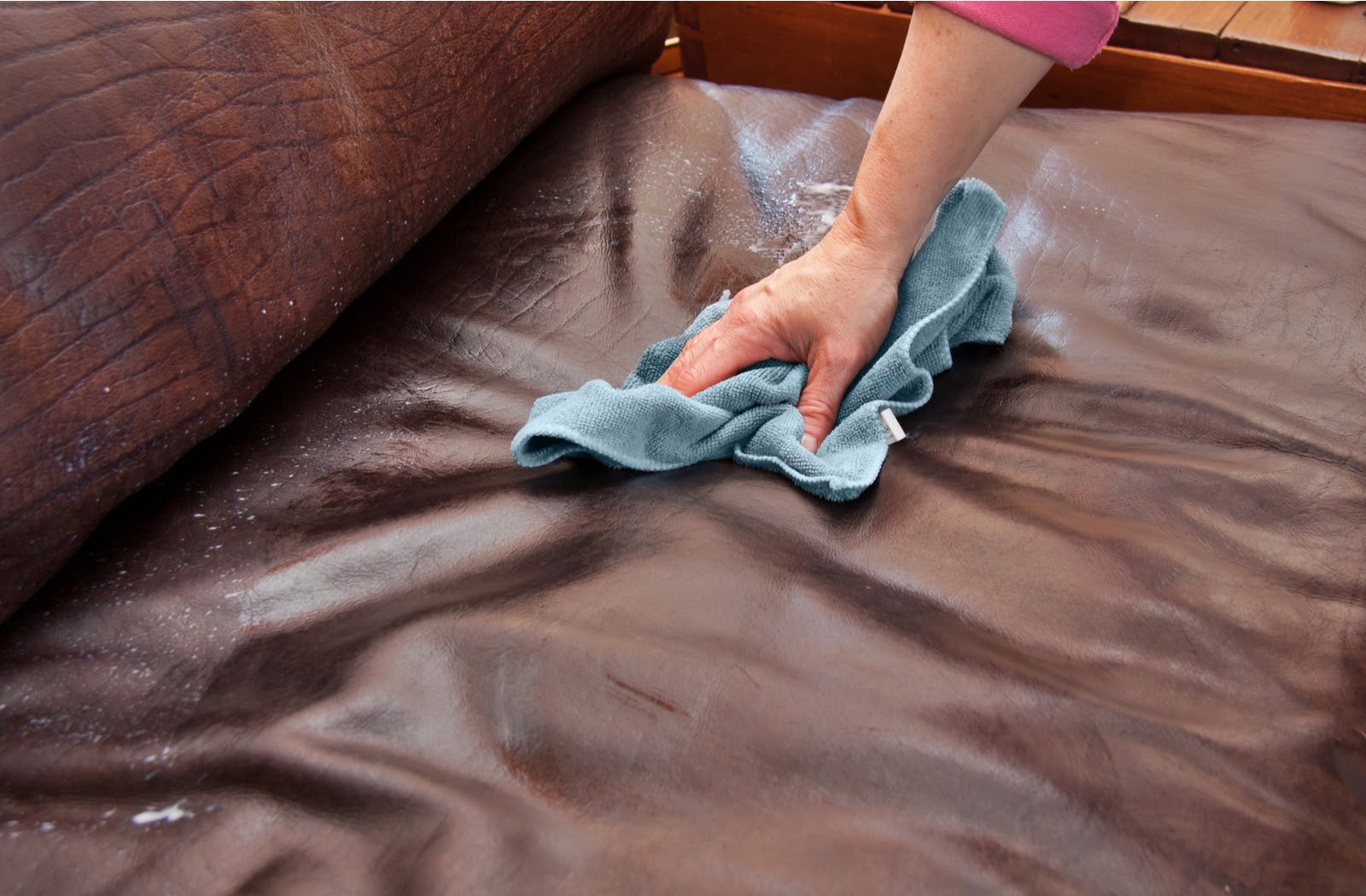 How to Protect Your Leather Furniture
To protect your leather furniture, it needs to be conditioned regularly. It is recommended to buy your leather cleaner and conditioner from where you purchased your leather furniture so that the appropriate product for the specific leather type is correctly picked.
We recommend you condition your leather furniture every time it is cleaned. You should also do a deep-conditioning treatment at least twice a year.
What Not to Use on Leather
To avoid damaging your leather furniture, you should avoid using the following products to clean your leather furniture:
Cleaning solvents
Furniture polish
Oils
Varnish
Abrasive cleaners
Ammonia water
If you are unsure whether or not you can use something to clean your leather furniture, it is probably best to avoid it.
Additional Tips
Some additional tips to keep your leather furniture looking good include:
Before trying a new leather cleaner, try it on a small hidden area first to test how it will affect the material.
Keep your leather furniture out of direct sunlight, which can cause drying and cracking.
If you can't remove a particular stain, we recommend contacting a professional leather specialist to clean the leather.
For small scratches on the surface of your leather furniture, you can use a chamois cloth or your fingers to gently buff out the scratch.
If you have any additional questions about your leather furniture, contact us at Birchwood Furniture today!