Here's the truth: you don't have to be an interior designer to breathe life into your living room. But, if you visualize your space, create a plan, and follow these simple suggestions, you can convert your living room into a functional, fabulous area of your home.
We'll help you consider the details of what goes into arranging your furniture and hopefully inspire you to do so at the end of this post.
Now, let's get started on arranging your living room furniture.
Conceptualize Your Space
Before moving furniture into place, think about the mood and function you want your room to have. Also, consider if you want symmetrical elegance or a funkier design with unique pieces—or anything in between.
Ask yourself: Is this going to be a kid-friendly family room? Will we gather around a table for ladies nights and engaging conversations? Do I envision the living room as a cozy place to read in front of the fire? Are we going to snuggle up in front of the television?
Conceptualizing your space creates some guidelines before you start moving furniture into place. If you need inspiration, browse Pinterest or visit our showroom to speak to the friendly staff.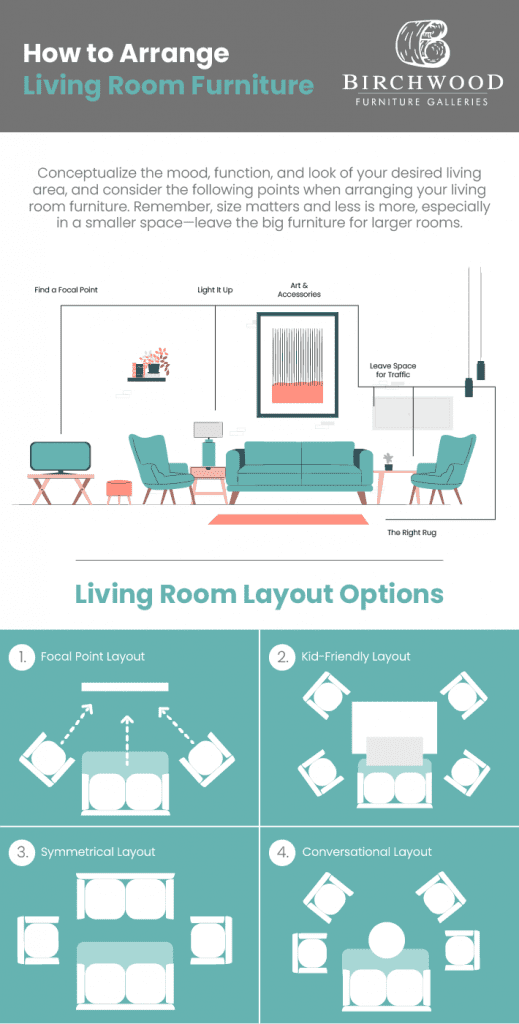 Find a Focal Point
Once you've figured out the mood and function you're after, it's time to decide on a focal point. Then, you'll arrange your furniture around this point.
Some homes are blessed with natural focal points, like an enticing view from a large window or a stone chimney around a fireplace. If you don't have an existing focal point, you can introduce something else like a television.
When a focal point doesn't immediately occur to you, your best bet is to arrange your sofa and chairs around a central coffee table in the middle of the room.
Leave Space for Talk & Traffic
Have your living room arranged in a way that creates space for conversation. This is one of the primary rooms where you'll host guests (besides your kitchen, of course, where all the parties end up!).
Your sofa and chairs should face each other in a way that encourages conversation (without neck pain) and be close enough that you don't have to yell across the room to chat. Larger rooms can have multiple conversation areas.
Then, you'll have to think about how people move throughout this room. You want to arrange furniture so that it's conducive to traffic flow. Leave plenty of space between the coffee table and the couch and chairs. And provide a path to get across the room that doesn't involve stepping over anything or anyone.
A little tip? You can enhance your space by pulling your furniture away from the walls. This makes the room feel a little bigger (especially if it's small), and the conversation area more intimate.
Size Matters
Set yourself up for success by measuring your space, your couch and chairs, and any other furniture you want to include. An arrangement either too big or too small can look awkward and just feel off.
In a larger space, you can have larger furniture (that's logical, right?), like an elegant sectional and a grand entertainment unit. But remember that balancing the pieces enhances the space, too. So you don't want to place all your small tables on one side of the room and your huge sofa and chairs on the other, making the balance off-kilter.
The same principle applies to smaller living rooms. So, even if you love this massive, comfy couch, you may want to consider getting a more petite version of it, so it fits nicely and looks balanced.
Also, our eyes appreciate empty space in a room. When too much stuff fills the room, it can look cluttered and uninviting. So, use your space wisely and pick furniture that fits your room.
The Right Rug
The essential piece of every living room arrangement lies on the ground: the area rug. Yes, you need a rug, even if you have carpet! It will add extra warmth and coziness to your room.
A few quick tricks can help you select the right rug, starting with the shape of your room. You want an area rug that matches the room's proportions. For example, a rectangular room should have a rectangular rug, and a square room would suit a circular rug or a square rug.
Now, what about placement? The standard practice (for a reason) is that the rug should be centred in the room and extend behind the front legs of each piece of furniture.
Your area rug anchors the room and brings it all together.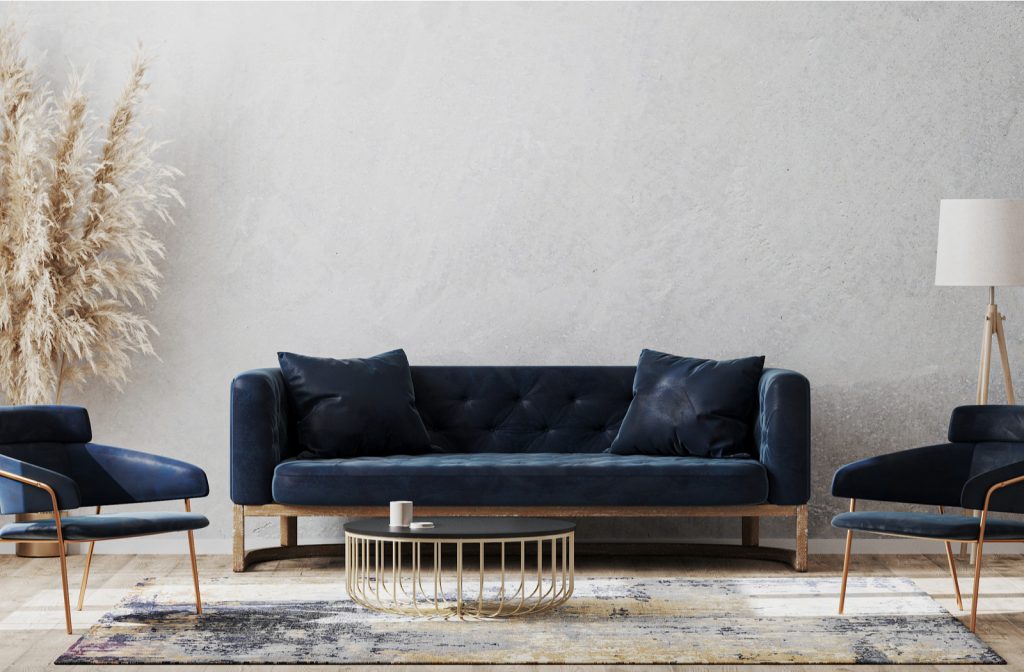 Table Arrangement
We won't even tell you that you need a functional table—you already know that. A table in your living room should generally be a central item, one that all your guests can use within arm's reach of the furniture.
A well-appointed coffee table can tie a room together beautifully. Coffee tables are fashion and function rolled into one. If your space allows for it, the bigger the table, the better. It creates a great aesthetic that you can decorate and utilize. The height should align with that of the seats on your sofa or chairs.
If a coffee table doesn't work in your living area, two side tables will function nicely. Place them next to your most occupied chairs or couch within arms reach.
Art & Accessories
Now that the seating arrangement is in place, it's time to enhance your space with art and decor.
Hanging artwork can be a tricky task, as a misaligned or uncentered painting can throw off the balance of the whole room. As a general rule, use artwork or a grouping of artwork that makes up about two-thirds of your sofa's length.
Then, when you have the correct size figured out, find art that speaks to you, that draws attention, and that brings a smile to your face when you admire it.
Once you have your art hung properly, you can add funky or chic decor items to your side tables, coffee table, hutch, or other open surfaces in your living room.
Depending on the feel of your living room, you may want to lush things up with some indoor plants or place unique baskets under your coffee table (adding extra storage space!).
Items we would be careless not to mention are coasters for wood furniture. To maintain the longevity of your wood furniture, it's essential that you care for it with coasters, among other things. And, they can add a little flair to your space, too.
Light It Up
Let there be light! Many living rooms don't have ceiling lighting, so bringing brightness into your space will involve additional lighting using floor lamps and table lamps. Or, if you feel so inclined, install an overhead lighting feature. Aim for a mix of lighting levels to illuminate your room in a balanced way.
The placement of your floor lamps depends on the function of your room.
If you spend a lot of time reading, you'll want a lamp angled behind your favourite reading seat.
When a television acts as your focal point, place the lights at an angle where you won't see glare on the screen.
For enhanced coziness in front of the fire, bring in a lamp with a dimming feature.
Table lamps are great, too. Just make sure they don't take up the entire side table's surface—you still need space to place your mug. And, if you're going for overhead lighting, ensure that it's centred above your seating area; otherwise, you may end up shining a spotlight on one lucky (or unlucky) guest.
Hello, Interior Design Pro
Well, there you have it—several easy tips to arrange your living room furniture to suit your space, as well as the mood and function you desire.
And, we're willing to bet, it looks fabulous.