Wood furniture often plays a central role in your home: you eat around the dining table, gather in front of the entertainment unit, and spend 8 hours a night on your bed. With all the family, friends, and fun around the house, surely your wood furniture will endure splashes of wine, scratches from pets, and marks from your children (or you!).
Learning how to clean your wood furniture correctly can prolong your furniture's life, so you can admire the chic, timeless, classic vibe of your wood furniture accents for years. We'll break down the basic steps to incorporate into your cleaning regime to keep your wood furnishings looking fresh.
Apart from cleaning, ensure you maintain your wood furniture to get the most value out of your investment. Keep it clean and protected so you can pass your wood treasures on for generations to come.
Get the Details From Your Retailer
Before you move your new wood furniture into your home, ask your retailer for the details. It's helpful to know what kind of wood comprises the piece and its finish. Knowing this information dictates how you should clean and maintain it.
At Birchwood Furniture, we proudly stock brands that source their materials as locally as possible, with wood furniture made to endure the temperamental Albertan climate. In our extensive catalogue, you can choose decor made from solid oak, maple, and cherry from high-quality manufacturers like Woodworks, Hotzon, Sahara, and Handstone.
Different Finish, Different Cleaning Method
The type of finish on your wood furniture may alter the cleaning process slightly. For the most part, you want to avoid chemical-based cleaning solutions as these can harm the natural wood over time and cause fading or spots.
No matter the method—always clean with care, stroke with the grain, and thoroughly wipe the surface dry with a clean microfiber cloth.
Paint: A diluted dish soap and water solution functions as an effective cleaner on painted wood.
Stain: Remove dust and wipe with a damp cloth, water only.
Unsealed: Use water or diluted dish soap solution on a cloth—do not put the solution directly on the wood.
Varnish: Remove dust and wipe with a damp cloth. Difficult spots can be cleaned with a diluted dish soap solution.
Veneer: If unsealed, remove dust and wipe with a damp cloth. If sealed, clean sparingly with a sponge dampened with a diluted dish soap solution.
Always clean a test spot on your furniture that's out of sight to ensure the cleaning method will work on your wood piece.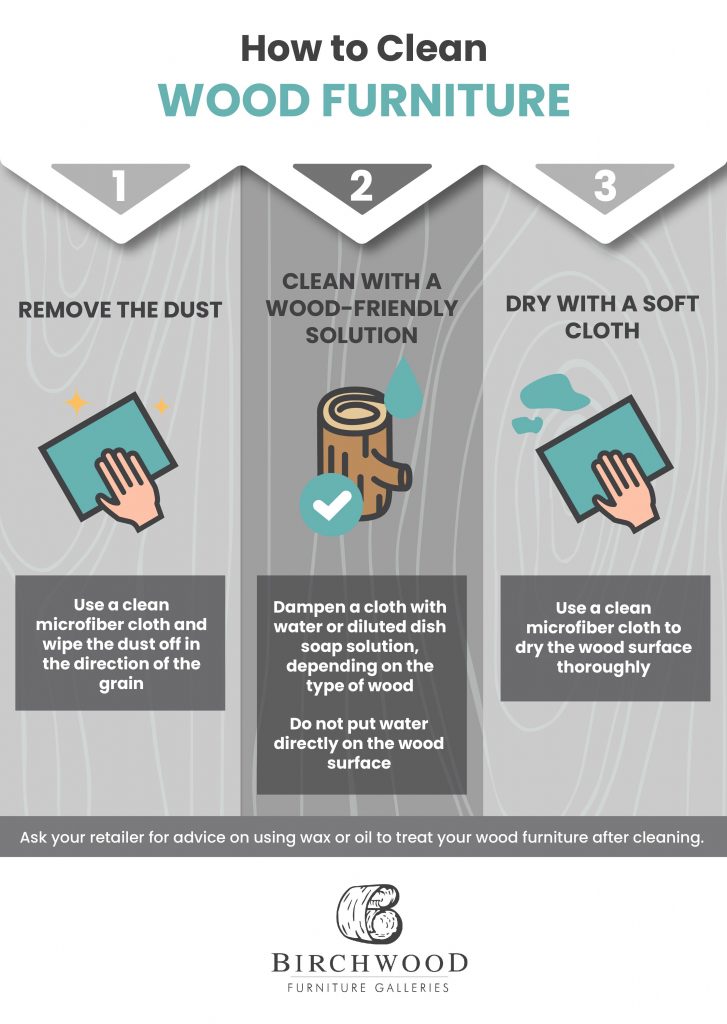 Proper Care Provides Long-Lasting Benefits
With proper care and maintenance on your precious wood furniture, your timeless pieces like your dining room table can last a lifetime and look as premium as the day you brought them into your home.
Cleaning takes a few calculated steps, but the reward of long-lasting furniture is worth the effort. Once you've gathered the necessary cleaning tools and products, cleaning your wood furniture will eventually become second nature. Here's how to clean your wood furniture correctly.
Remove the Dust
This is an essential step in maintaining your wood furniture. Dust is a pesky little thing that can cause scratches if removed improperly. When dust rubs against the grain, the grit causes minor tears on the wood's surface.
Also, you'll want to dust your wood furniture before moving onto the next steps—otherwise, you could rub dust further into the surface, causing more damage.
When you dust your wood furniture, use a soft, clean microfiber cloth, and always wipe with the grain. You should make a habit of dusting your wood furniture every couple of days. This prevents buildup and keeps your wood furniture looking shiny.
Clean With a Wood-Friendly Solution
Once you have thoroughly dusted your wood items, your next step is to clean them, especially if there are sticky spots or marks. Note: do not put any water or cleaning solution directly onto your furniture. Using excess water on wood can cause the wood fibres to swell, and when it dries, the surface becomes rough and warped.
First, look at the list above to determine which solution will be best for your wood's finish. Then, use a clean, soft cloth (different from your dusting cloth), and dampen it with your solution—most likely just water with a tiny amount of dish soap.
Wring out any excess water and gently wipe the surface, using small circular motions on tough spots. Avoid using commercial cleaning sprays and products unless your retailer specifically recommends them.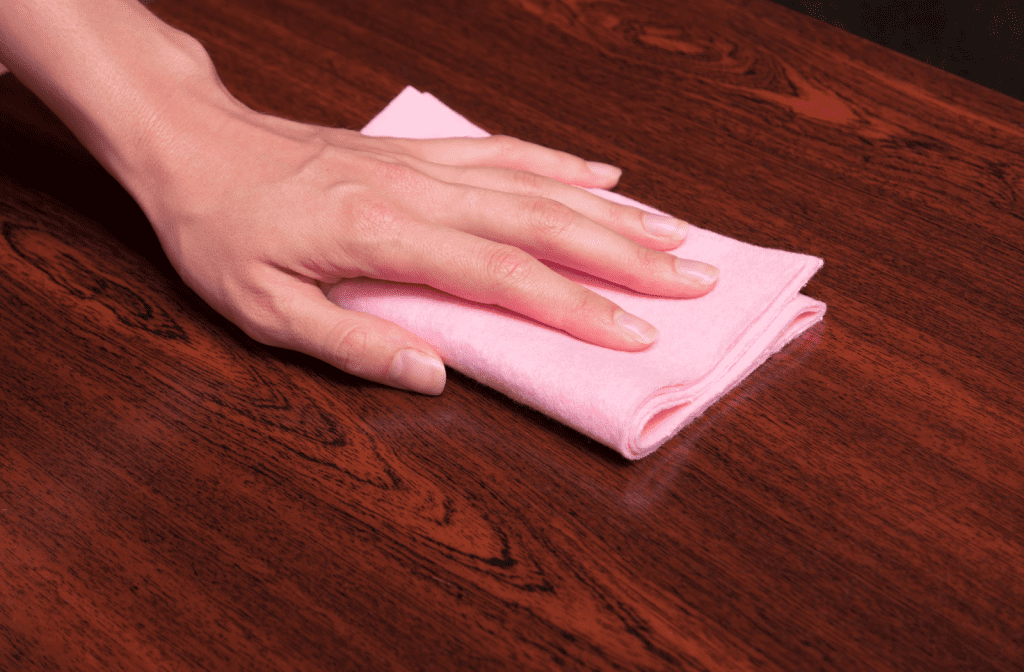 Dry With a Soft Cloth
Always dry your wood furniture thoroughly. Again, water and wood are not friends, so you want to ensure that the surface is completely dry before moving onto the next step.
Use a clean microfiber cloth and dry the surface in the direction of the grain.
Protect With a Wood Treatment
This step will need to be done less frequently, if at all. And, if you're not sure which treatment works best for your furniture, get in touch with your retailer for advice.
Items You'll Need to Clean Your Wood Furniture
Here's a quick list of items you'll need to clean your wood furniture, so you can spend less time researching how to clean wood and more time admiring your pristine wood furniture pieces.
Soft, clean microfiber cloths
Water
Dish soap
Hot tip: Clean your cloth after every use. When the cloth is dirty, other dust particles could potentially cause scratches on your wood surface.
Preventive Measures
Use coasters under cold and hot drinks
Use placemats and trivets when serving hot meals
Wipe spills or condensation rings immediately
Don't place furniture in direct sunlight or near heat sources
Treat Your Wood Furniture With Care
You put a lot of money into your wood furniture, and you want to have it for years to come. First, you'll want to find out what kind of wood it is and what finish was used to protect it.
So, keep it clean and maintained with a lint-free microfiber cloth every couple of days. When you need to wash your wood surfaces or remove pesky stains and marks, use a damp cloth (not soaked), and avoid putting water directly on the wood.
And, always, always, dry the wood surface thoroughly.