We know day-to-day life can be messy. From children running around to dogs and cats lounging in the living room, and that occasional snack you have at the couch, dirt and stains are bound to happen.
Here at Birchwood Furniture, we're building quality pieces that will stand the test of time. Everything is built with care by one upholsterer from start to finish, using high-quality materials.
So, you need to take care of the upholstery that gives your furniture its exceptional look and feel.
Most upholstery comes with its own cleaning codes.
Here's what they mean:
S — "Spot clean" using a mild solvent or dry cleaning product
W — "Water-based cleaner." Use a mild upholstery foam or shampoo
SW — A combination of dry cleaning solvents and water-based cleaners
X — Only clean with a light vacuum or brushing, no water or solvents
We carry a line of reliable products for cleaning and protection here at Birchwood. Come talk to us to find your solutions.
Cleaning & Maintenance
The cleaners you use will differ depending on the type of upholstery covering your furniture.
Fabric & Leather
The type of fabric or leather you choose typically depends on what you're using the space for.
In a heavily-used area like a living room, microfibers are durable and easy to clean. You can hide minor stains with patterned fabrics, and resist wear and tear with textured fabrics.
Many performance fabrics are machine washable.
To keep dirt from settling into your fabric upholstery, vacuum the cushions regularly with a brush attachment. Flip cushions regularly to help them keep their shape and prevent fading from sun exposure.
A majority of leather will have a "Soft Cleaner" cleaning code. This means you should only use a soft cloth to wipe down your upholstery. If needed, you can use a damp cloth to clean spots.
Treat leather like you would treat your skin. Some cleaning products can dry out our hands and make them crack, and the same goes for leather upholstery.
Specific cleaning instructions can be obtained from Birchwood Furniture.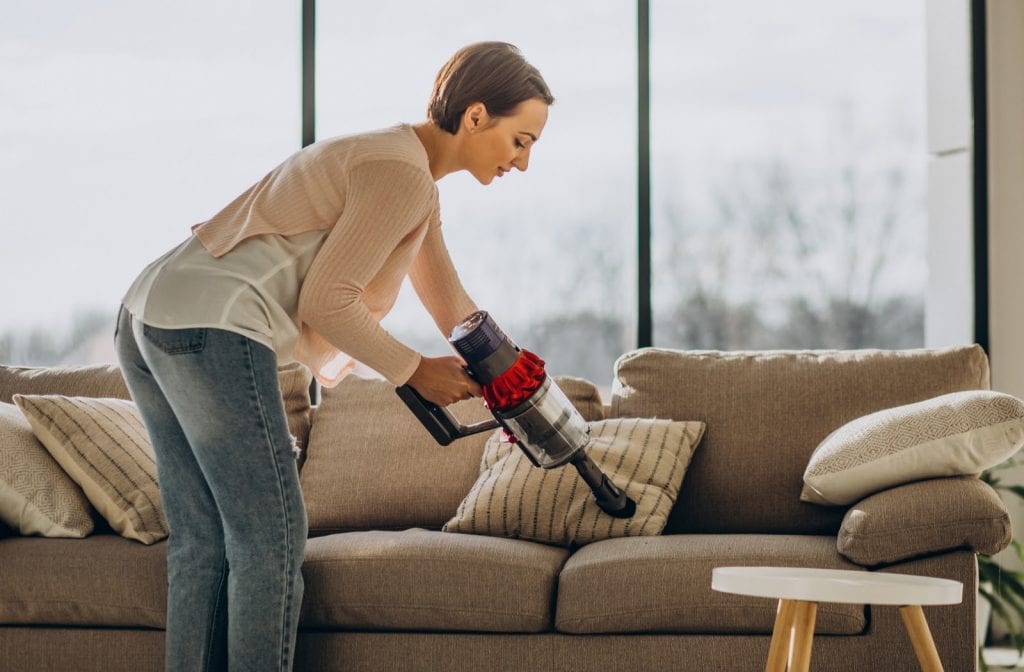 The 10 Best Cleaners & How to Use Them
Choosing the right cleaning product is important, and above all else, you should follow the instructions that are specific for your fabric or leather choice.
At Birchwood Furniture, we have a range of products that we will recommend to you, based on the type of upholstery you're cleaning.
Any time you use a new cleaner, test a small inconspicuous spot before you proceed with the rest of the cleaning. Let that dry completely to ensure it doesn't leave behind discoloration or residue.
Your Vacuum
Sometimes we think our furniture and upholstery is dirty and stained, but it's just surface dirt that needs to be removed. If your vacuum has a brush head attachment, use that to help loosen dirt while suctioning it away.
A Sticky Lint Roller
If you're just removing the day-to-day buildup of pet hair, crumbs, and general fuzz, *stick* to this product.
Lint rollers don't use any chemicals or cleaners to lift loose dirt that has accumulated on your cushions and in between the cracks. A lint roller shouldn't damage fabric or leather since it is a dry product.
Warm Water & a Soft Cloth
The best place to start when removing a stain is by using a bit of warm water and a soft cloth. Dampen the cloth and wring out most of the water. Dab the area lightly, pressing down and twisting the cloth slightly.
Try not to scrub at the dirt or stain, as this can set the stain further into the upholstery.
Storebought Natural Cleaner
Here at Birchwood Furniture, we recommend you use an all-natural and biodegradable cleaner on your furniture.
When you need a little extra lift, you can use a small amount of natural cleaner on some upholstery to help get rid of pesky dirt and stains. Use it the same way you would use warm water and a soft cloth, but add a few drops of cleaner into the water.
Follow the instructions on the product to ensure you properly treat the area.
Your Laundry Machine
Some upholstery can be washed right at home in your washing machine. Follow the instructions on the tag of your furniture coverings to know exactly how you should wash the fabric.
To see if your upholstery is machine washable, check to see if there are zippers on the pillows and if the coverings are removable. Then, have a look for a tag that will contain the proper washing instructions.
Steam Clean
A steam cleaner penetrates your upholstery to help remove tough dirt and stains. It uses steam to clean, but you can give it a boost with some extra natural cleaners needed.
Fill the water basin, choose the appropriate attachment, and turn it on. If you're using a brush attachment, brush the area first to loosen the dirt.
When you're ready to blast away the stain, put the end of the hose to the area you want to clean and engage your steamer to start lifting out the spot. Repeat as needed.
Carpet & Upholstery Foam Cleaners
These cleaners are typically tougher on stains. They sometimes come with a built-in brush for extra scrubbing action. Follow the instructions on the product for how to use these types of cleaners.
If you have stains caused by children and pets, you might want to take this extra step. These types of cleaners can also discourage pets from making a "mess" in the same area while eliminating existing odours.
Pet Stain & Odour Removers
We're getting into tougher territory here.
With enzyme cleaning actions, these stain removers talk the talk. Some pet stain and odour removers go above and beyond, claiming they also remove motor oil, makeup, spaghetti sauce, food grease, and more.
Often, these cleaners will also tackle smoke, mold and mildew, and pet odours.
For best results, pre-treat the area by removing as much of the stain as possible. Then spray the area with the cleaner, and cover with a damp cloth until the stain is gone. This process could take 12-72 hours, so make sure you have the area blocked off if needed.
Hire a Professional
There are many professional upholstery cleaners out there who can help make tough stains disappear.
If the cleaners you've tried just aren't working, the final step before completely recovering your furniture should be to call a professional (unless you're looking for an excuse to update!).
They will come to your home with their specialized cleaning supplies and tools. Hopefully they will be able to make quick work of your stained upholstery.
Reupholster your Furniture
If the very worst happens, or if you're looking to update your space, your furniture can be recovered with a new fabric of your choice. We keep all furniture designs on file, so when you're ready for a makeover, we're happy to make that happen.
Everyday Cleanliness Habits
These cleaning solutions can help keep your upholstery fresh. When the inevitable happens, clean your furniture according to the product instructions.
Keeping dust and loose dirt off of your furniture can help keep upholstery clean, and it's a great way to prevent permanent stains from everyday use.
Try these tips to keep your fabric and leather tidy:
Keep your home clean from dust and pet hair
Brush your pets, clean dirty paws at the door
Use a washable blanket or furniture cover
Flip cushions over regularly to prevent damage