Bringing a new sofa into your living room or home office can light up the room and bring new energy to a space. Just like buying a new car, keeping your sofa cushions in pristine condition for as long as possible is the goal.
Aside from keeping your sofa clean, what else can you do to keep it looking and feeling its best? Preventing and even fixing your couch cushions from sagging is an easy way to bring life back to your cushions, creating that new sofa feeling once again.
Why Sagging Sofa Cushions?
Buying a new couch is an exciting experience! It is an investment that you'll share with your friends and family, being a major part of the memories you create with them. But just like any piece of furniture you buy, it is prone to wear and tear from regular use.
Whether you have just bought a new sofa or you are trying to restore the one you've had for years, these easy steps can help save you money and from having to buy a new couch. We all want to hear that compliment from friends saying "these couch cushions are SO comfortable! How did you get them like this?", so why not make that feeling last?
By taking the proactive approach, you will extend the lifetime of your sofa cushions and continue to have a happy experience!
Reasons for Sagging
We all have our favourite place to sit on the sofa, a place that makes us feel like we are relaxed and have nothing to do. Even though this spot is our favourite, it's not good for our sofa if we only sit on that one cushion. By sitting on the same cushion over and over, you are wearing out the stuffing inside and creating a sagging effect.
If you're not willing to give up your regular cushion quite yet, we have solutions and prevention methods that can help you too!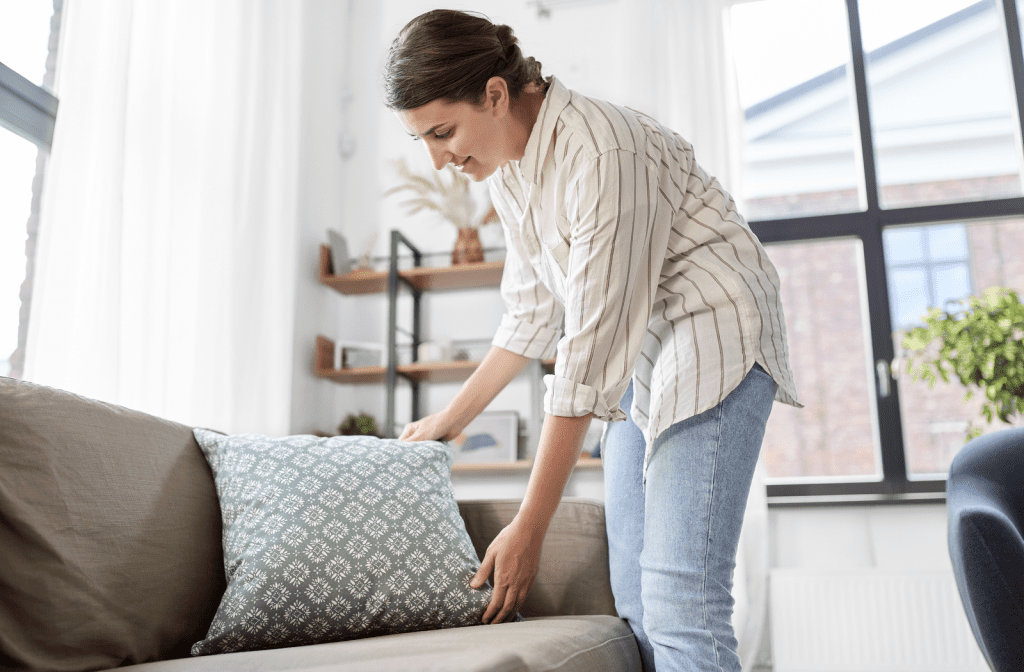 Prevent Sagging Cushions
No sofa cushion is going to last forever, but preventing sagging from setting in is an easy way to extend their lifetimes. Following these methods is sure to make your cushions the envy of all your friends!
Switch Cushions
This regular and simple process can make the world of difference with your cushions. If your sofa cushions are removable, move your cushions around on your sofa to match your seating habits. If you're like most people, you are regularly sitting in the same spot. Switching your cushions will help to distribute the pressure on your cushions.
Sit on Cushions Correctly
Believe it or not, there is a correct way to sit on a couch… Even though nothing feels better than coming home after a long day and flopping hard on the sofa, this damages the springs and can lead to further issues.
This doesn't mean you should be afraid to sit on your sofa, but you shouldn't apply more pressure that is needed when sitting down regularly.
Fixing Sagging Cushions
If your sofa cushions have already been sagging and you're not ready to give up on your sofa yet, you're in luck, they can still be saved! While it's much easier to prevent sagging rather than to fix it, fixing sagging cushions can still be done and can save you from having to buy a new sofa.
Replace Your Cushions
There is no feeling quite like sitting on a new sofa cushion. The bounce and comfort are amazing! This feeling comes from the new, high-quality stuffing inside your cushions. If your cushions have started to sag, your stuffing is likely starting to deteriorate, due to poor quality or overuse. The best option is to search for new cushions with higher-quality stuffing.
Having your sofa cushions replaced by a professional, such as Birchwood will ensure you get that same bounce and comfort back in your sofa. Our extra-sturdy, anti-sag cushions are designed to last and keep your couch looking and feel like you just got it.
Learn more about how our top-of-the-line furniture can bring new excitement to your sofa cushions.
Bring Your Sofa Cushions Back to Life
Maintaining and protecting your sofa isn't hard. Trying out a few of these methods can help to restore your sofa cushions to their former glory and make it a great place to enjoy a weekend once again!