Got a new home and wondering how to arrange your small living room space to make the most of it? A small living space doesn't mean design and comfort have to be compromised. A room can still feel balanced and functional with added elements of your personal style.
Quality, long-lasting furniture that can be customized to meet the needs of your space will ensure you're getting the specific dimensions you need. Customization also gives you choices when it comes to the upholstery, style of leather, and wood stain colour.
Whether the small space you are working with is your living room, bedroom, or home office, here are some basic things to consider before doing so.
Dimensions of your room
Functionality of each piece of furniture
Estimate size of the furniture piece you will need
Measure Your Space First
Before heading out to pick your beautiful new furniture pieces, it is essential to measure your space. Measuring first will help you conceptualize the layout and functionality of your room so you can understand what you are working with.
First, grab the tape measure and start with the length and width of the room. This will ensure you get pieces that will fit your small space proportionally.
Next, measure the height of the room. Height is ideal for taller pieces such as bookcases or entertainment units.
Don't forget about doors and entryways! You want to make sure your new furniture will fit through with ease.
Double-Duty Pieces
When you are on the hunt for new furnishings for your small space, ask a furniture enthusiast about extra features the furniture has or be on the lookout for double-duty pieces. This means one piece functions in 2 ways, which can be an instrumental way to save you space.
Some examples include:
Ottoman pushed up against a sofa to instantly become a sectional
Extra storage can make a small space feel less cluttered. By utilizing furniture that serves 2 purposes, you can maximize functionality.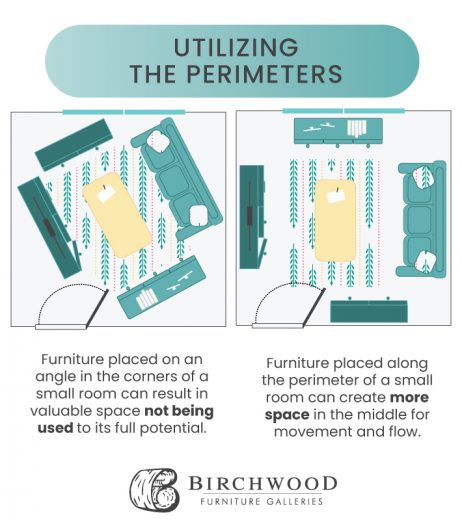 Utilize the Perimeters
When working with a smaller space, it is essential to optimize what you have.
Lining your furniture around the edge of your room will give you more movement area in the middle. You may have seen floorplans with sofas, bookcases, or entertainment units placed in the corners of the room or are free-standing. This can take away valuable square footage, especially in a smaller area.
Perimeters can optimize each square inch so nothing is wasted. It can also make the room feel less cramped and more open and comfortable.
Picking the Right Proportions
A comfortable space is a balanced space.
Choosing the correct proportions of furniture based on your measurements can help avoid a squished or cramped feeling.
A good example would be opting for a loveseat over a sectional when needed. A loveseat may leave you with more space on either side for an end table, design piece, or storage. A larger sofa may end up being crammed up against the wall or leave little space to move around, which is not as beneficial to a smaller room.
Another example could be the size of your bed frame. You don't want to have to shimmy along the wall every time you get in or out of bed because there is not enough space on either side.
Quality, long-lasting furniture that can be customized to not only suit your style preferences but also the measurements you need will help optimize your space. If you are having trouble envisioning a layout for your rooms, working with a design expert can help you find the right proportions.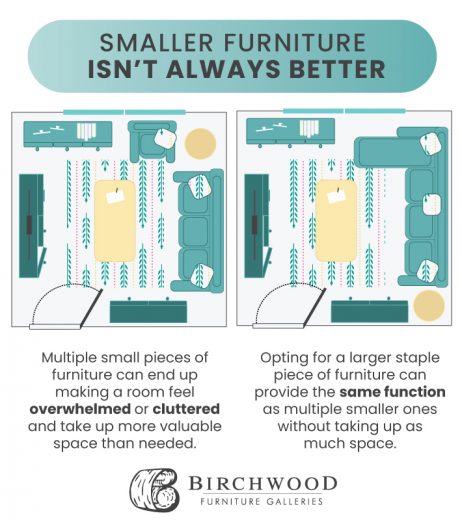 Smaller Isn't Always Better
Discussing proportions leads us right to the next tip, smaller isn't always better. Choosing the right proportions doesn't always mean smaller. A lot of small items can quickly clutter up a room.
A few larger pieces can make the room feel more composed, spacious, and organized. For example, choosing a sectional versus multiple chairs and sofas can give you your desired seating space without too many elements overwhelming the room.
When in the planning stage of designing your small space, it might be beneficial to create multiple floorplans to compare what size furniture fits best.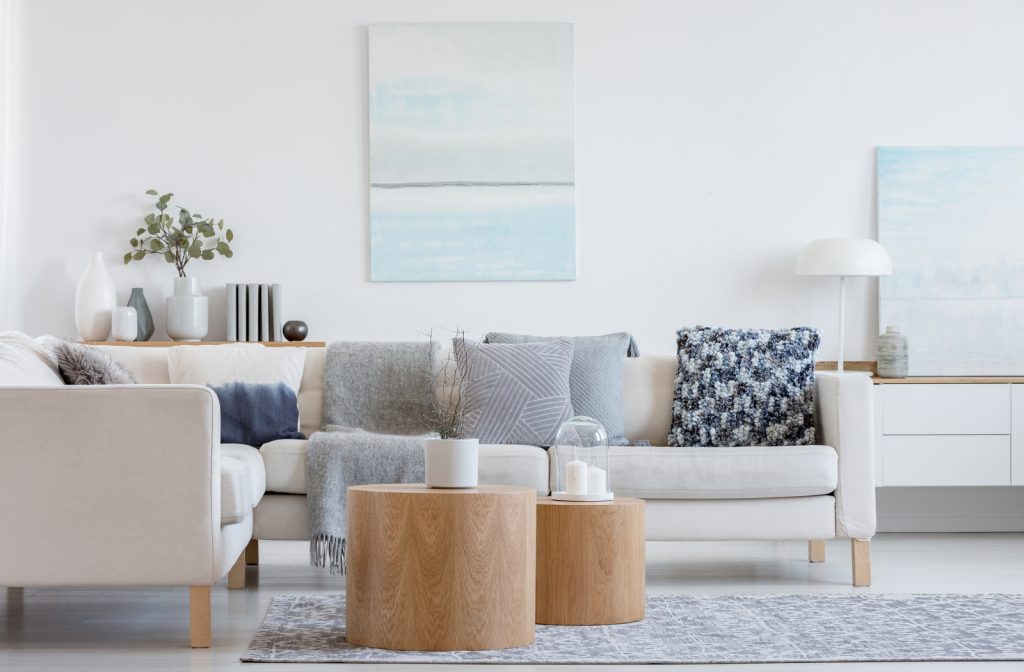 Keeping it Simple
When in doubt, keep it simple.
Simple doesn't mean style or function gets compromised. A small space can be easily overwhelmed. Taking a simple approach to your area allows you to utilize it to the best of your ability.
By measuring first, finding pieces with multiple uses, utilizing the perimeters, and picking the right proportions and sizes, you are sure to have a comfortable and functional living space.
If you have any questions about what furniture is right for your space, the design experts at Birchwood Furniture can help with the dimensions and customizations of pieces to make the most of your small space.