You don't have to feel bad about hitting snooze one more time when the commute is less than a minute from your comfortable bedroom to your home office.
With more work-from-home or hybrid opportunities, there are plenty of benefits to putting more thought into setting up your home office. And the fun part is you can be the designer of your space!
It is no secret working from home can come with some distractions. This is why it is crucial to create a comfortable and functional work-from-home environment that works for you by choosing quality, long-lasting furniture.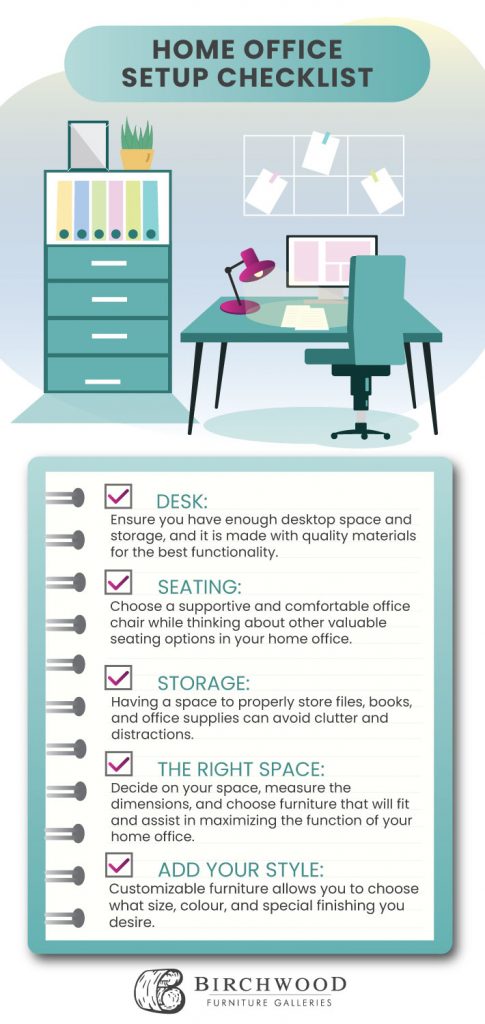 Deciding What You Need
Depending on what you do for work, your home office will need to meet a specific set of needs. The design and functionality of your furniture will play a key role in optimizing your space.
The Right Desk for You
When you are deciding on a desk for your home office, there are a few things to keep in mind.
Does it offer enough desktop space? Think of what you keep on your desk, how many monitors you may have, or how much space is needed for writing or drawing.
Is there enough storage for your materials? Drawers can help keep your files organized or house all your supplies. Storage and organization are helpful when it comes to productivity. Less clutter can mean fewer distractions.
Choosing a high-quality desk made to last will provide you with comfort and function throughout your career.
Seating
A comfortable and supportive work chair is essential to your setup. When choosing and setting up an office chair, it is important to keep in mind:
Features that support your posture to avoid slouching and straining your muscles
Setting up your chair so both elbows can rest on the desk to avoid reaching out for your keyboard
An adjustable chair that allows you to keep your computer screen at eye level
Other seating you may want to consider for your home office are any extra chairs or accent pieces. This can be an area to hold meetings, or in a multi-purpose office space, it can be an area to entertain or a spot for the kids to play.
In any case, extra seating can add comfort and value to your home office.
Extra Storage
When there is enough storage to have a place for everything to go, your home office will become more neat and organized. When you know where everything is, you can be more productive.
Shelving and bookcases are a great way to add more storage to your space. They are a useful way to store books, documents, and reference materials without compromising design.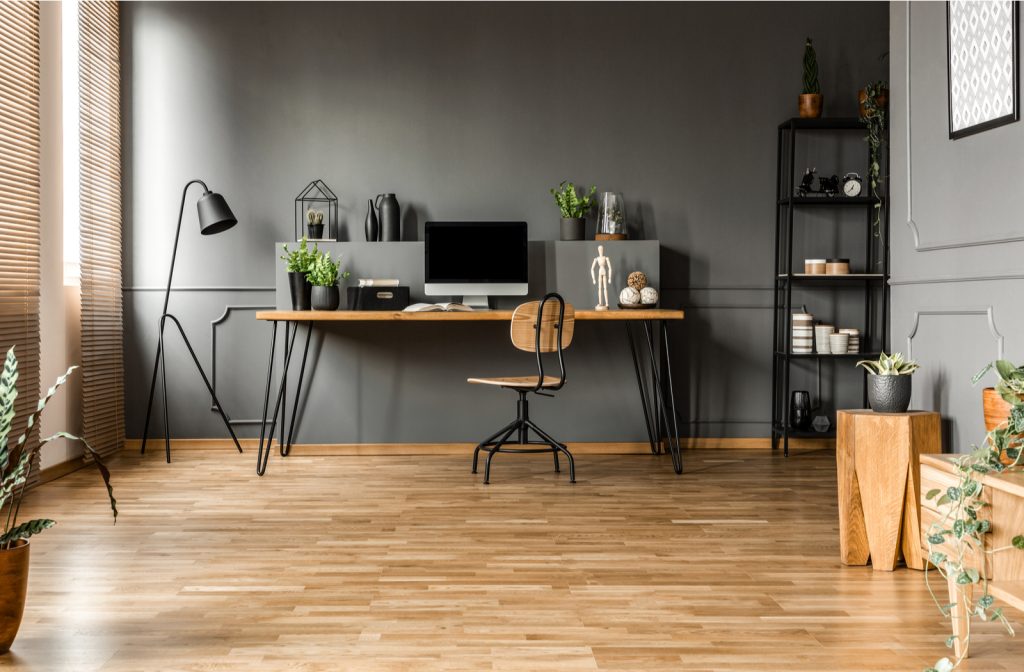 Choosing Your Space
Now that you have made a list of everything you need, it is time to choose what space in your home will work best for your office.
Will you be choosing an entire room dedicated to working from home or a multi-purpose space? This is important when selecting the layout and furniture to match the function. In a multi-purpose space, you may choose furniture that offers multiple functions or can hide away easily.
For example, a sofa that offers extra seating in an office space but can turn into a bed for the room to function as a guest bedroom when needed.
Once you choose your space, make sure to measure the dimensions. Measuring will help determine what size furniture will fit and the layout of your home office.
Start with deciding where the desk will go. You want to have enough space for movement and for your chair to be pushed out freely. Furniture that can be customized to meet the specific requirements of your home office can ensure you are making the most of your space.
Your Personal Touch
Your home office furniture should be comfortable and functional, but it should also reflect your personal style.
Customize your furniture to get the size, shape, colours, and finishes you want. By choosing timeless pieces, you are sure to withstand design trends, and your home office will stand the test of time.
High-quality furniture should be the staple, while smaller accessories and colours can be changed along with evolving styles and trends.
A Space You Can Feel Good In
Your home office is a space you should feel good in, and the furniture you choose should contribute to that. Birchwood Furniture carries a variety of designs and offers customizations to suit your personal style. Visit the Birchwood Furniture showroom, and our team would be happy to help find the perfect pieces for your home office.