A sofa can be one of the most used items in your home. It is a place of comfort and memories with your family and friends, which can mean the sofa will see some wear and tear over time.
If you're looking for a little sofa rejuvenation, consider the following ways to give your furniture a new life.
Reupholster or Buy New?
If your sofa is starting to sag or the fabric is worn out, the first thing to ask yourself is: should I reupholster my sofa or buy a new one?
You may want to consider reupholstering if the mainframe and structure of your sofa are still in good condition. Quality furniture will last you and your family years, but the fabric and cushions can start to wear faster depending on how often it's used.
Another reason to consider reupholstering is if your furniture holds sentimental value. A piece that has been part of your family for generations can be updated to reflect your style with a new choice of fabric.
Buying new is an option to change the overall style of sofa you had before.
The Type of Sofa
The type of sofa you have can affect the overall cost of reupholstery. This can include:
Loveseat: which is typically 52"–64" in length and needs around 8–12 yards of fabric
Chaise: which is typically 73"–80" in length and needs around 15–20 yards of fabric
Sofa: which is typically 70"–96" in length and needs around 12–28 yards of fabric
Sectional: which is typically 94"–156" in length and needs 28+ yards of fabric, depending on how many elements and cushions there are.
It's important to note that the style and shape of a piece, such as high vs. low back and with or without arms, will influence the overall cost and fabric needed for the piece.
Fabric
There are some things to consider when choosing a new fabric to cover your sofa.
Type
The type and quality of fabric can affect the amount you pay per yard. Common upholstery fabrics include:
Chenille
Cotton
Leather
Linen
Synthetics
Twill
Velvet
One yard of fabric is equal to 9 square feet. The total yards needed to cover your sofa can depend on its length and depth.
Pattern
If a patterned fabric catches your eye, you may need to consider purchasing a few extra yards. Having a particular part of the design in the centre of the sofa, or making sure patterns line up nicely could mean more fabric so the visual beauty of your furniture is not compromised.
Durability
Fabric is rated on its durability based on the Weisenbeck rating. The fabric is rubbed back and forth in sets of 5,000. The test continues until the fabric shows signs of wear or breakage. The rating levels include:
Delicate duty: less than 3,000 rubs cycles.
Light duty: 3,000–9,000 rub cycles.
Medium duty: 9,000–15,000 rub cycles.
Heavy duty: 15,000+ rub cycles.
Taking these factors into account can help you decide the right fabric and cost to reupholster your furniture.
The Extras
It can be common for specialists to find extra repairs needed when reupholstering a sofa. Some extras that could add to the overall cost of reupholstery include:
New foam for seat cushions and fill for pillows to help return your sofa back to its original state and comfort level
Padding may need to be added to the arms or other areas of the sofa
Fixing collapsed springs during a reupholstery can add to the price and hours to the job, depending on how many springs need to be replaced.
Frame repairs can be found once the old fabric is removed from the piece of furniture. If the structure is fractured or completely broken, these repairs can add an additional cost to reupholstering as well.
Tufting can jazz up an old piece of furniture but add to the cost depending on how detailed the design is. It requires an experienced design eye and someone familiar with stitching and finishing to add this extra style to your sofa.
Transportation
The majority of professional upholstery work is done in a workshop. Your sofa will need to be transported to that location in order for the work to be done. Most companies offer a pick-up and delivery service. The cost will add to your overall restoration total and can depend on how easily accessible the furniture is.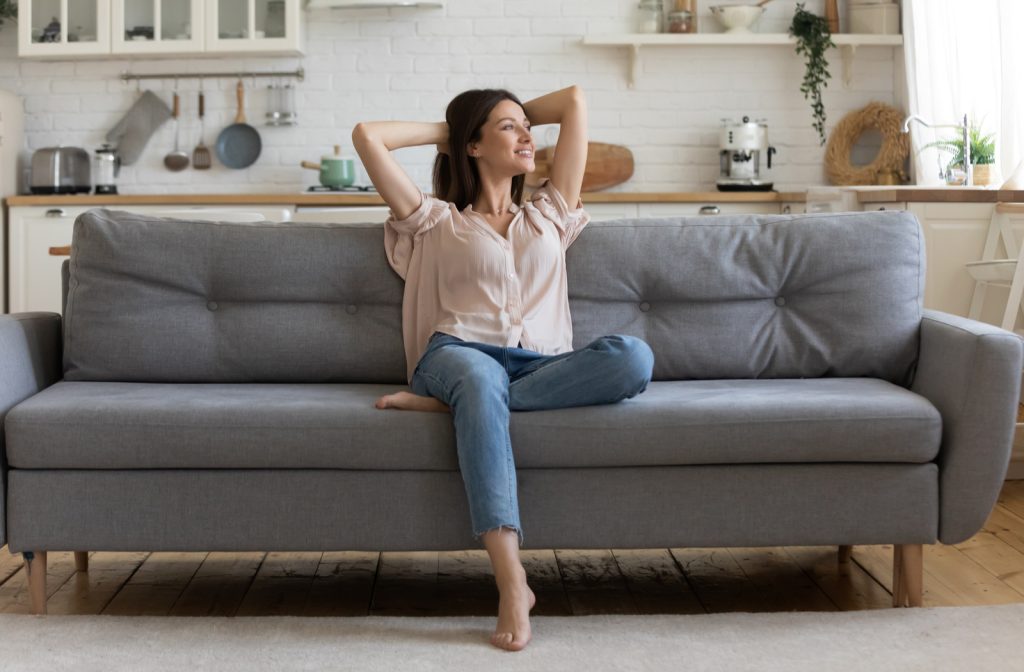 Find the Sofa for You
Finding quality furniture to withstand all aspects of life is important.
Whether it's just the upholstery needing a refresher, upholstery plus some interior repairs, or a full restoration, the price will vary.
If a new sofa seems the better option, the furniture enthusiasts at Birchwood Furniture can help find a quality, Canadian-made piece right for your home.