Your living room is described as the heart or soul of the home—a space where people gather to socialize, connect, and enjoy. Apart from the decor, such as carpets, photos, and paintings, furniture is the predominant footprint in a living room.
One question we get a lot from our clients over the years is, how long does living room furniture last? And we think it's one that deserves an answer.
As with any purchase, the longevity of your living room furniture depends on the type, quality, material, and usage. Generally, living room pieces, such as a sofa, can last between 7 to 15 plus years.
The shelf life of a piece of furniture often depends on the extent of its usage. When kids and/or pets and other family members are using a sofa daily, it will place wear and tear on the piece much faster than if a sofa is placed in a formal living room with limited use. Therefore, living room furniture does not come with an expiry date but it will need replacing at some point. So, how do you know when it's time to make the switch? There are tell-tale signs that can indicate when it's time to replace your living room furniture.
What Is Living Room Furniture?
Living room furniture are pieces of furniture that serve as focal points in the room and can be versatile in function. Your living room furniture might include sofas, sofabeds, sectionals, loveseats, accent tables, coffee tables, sofa tables, ottomans, TV units, and more.
How Long Does Living Room Furniture Last?
If only there was a cut-and-dry answer to how long living room furniture lasts. Several factors can affect the wear and tear of living room furniture. Here is some insight into the lifespan of common furniture pieces:
Sofas
Sofas, loveseats, and sectionals are big-ticket purchases and can last up to 15 years or more with good care and maintenance. Quality pieces that are made with solid wood frames, reinforced construction, and anti-sag springs, can provide comfort for years and hold up for longer.
Chairs
Chairs, including armchairs, like sofas, provide additional seating for guests and can add to the style of your living room when used as a decorative or statement accent piece. Fabric-upholstered chairs can often last for many years, although 10-15 years is considered average. Double-springed seating/armrests with solid wood legs can last even longer.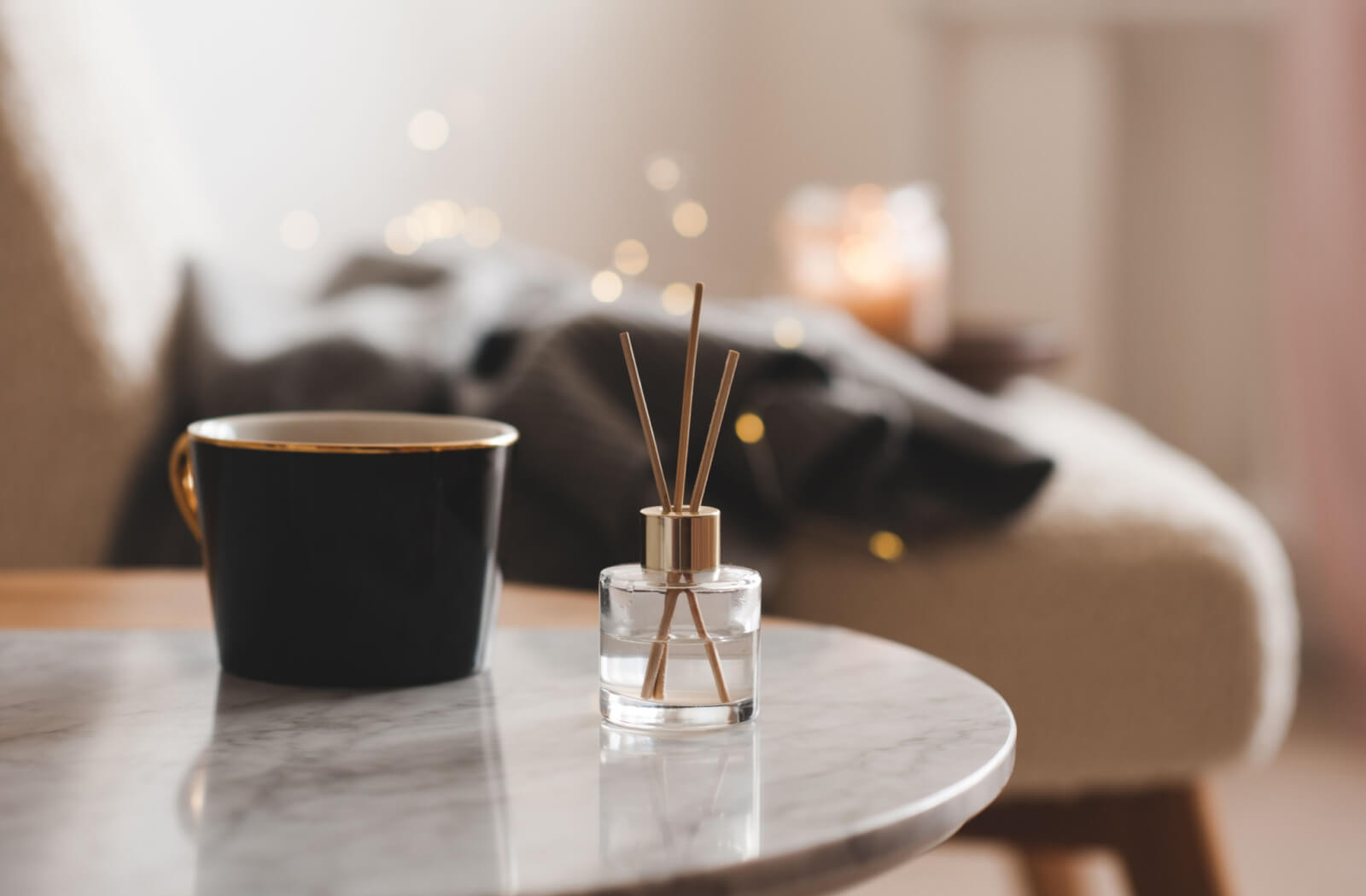 Coffee Tables
High-quality coffee tables can last for many years. Coffee tables, unlike sofas and chairs, are low-usage pieces. They usually serve as a place to hold decorative items, vases, lamps, or sometimes even coffee or tea cups.
Side, End, or Sofa Tables
Like coffee tables, these can be part of living room furniture, placed at the ends or behind sofas, they provide storage or space for decorative items. They can also have a lifespan of many years. High-quality, solid wood side, end, and sofa tables are more durable and last longer.
Ottomans or Footstools
Ottomans can triple up as storage, seating, or the ideal footstool. Ottomans are versatile, moveable, and a must-have furniture addition to your living room. They can easily last up to 10 or more years with proper care.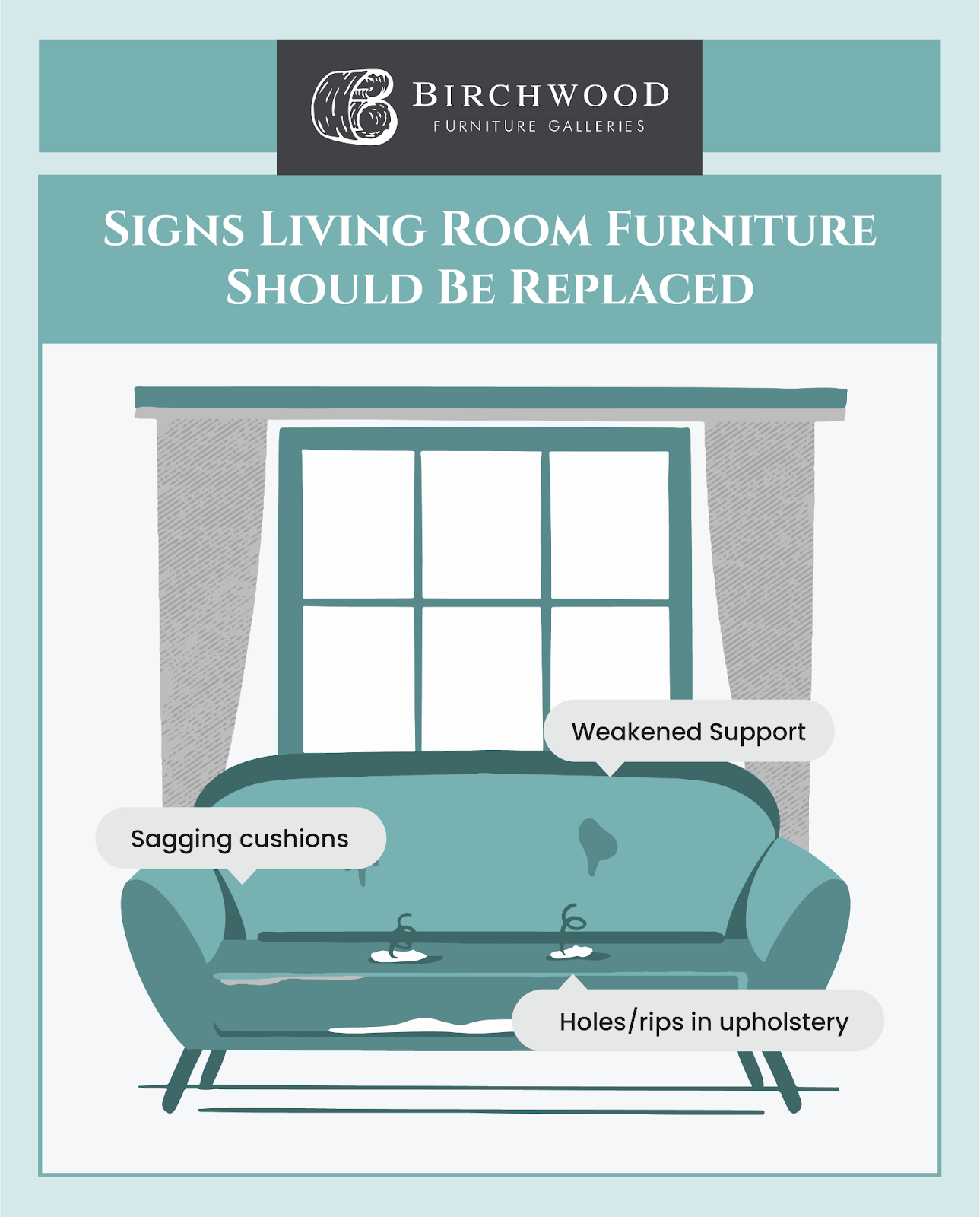 Signs That Indicate It's Time to Replace Living Room Furniture
Why do some pieces of furniture last longer than others? It's simple: high-quality, hand-crafted, timeless, and classic pieces are known to last for many, many years. When looked after, these can be passed from one generation to the next.
While most living room furniture pieces can outlast the manufacturer's warranty with proper care, here's how to determine when they need replacing:
Sofa: You should consider replacing your sofa when the support system, such as the springs have endured enough wear over the years that the piece feels as if it is sagging.
Chairs: Chairs and armchairs with fabric upholstery, stains, rips, frays, and holes can indicate it's time for a replacement. These signs of wear and tear usually result from how furniture is used in the home. Fading or colour change can be caused by direct sunlight. You may also want to consider a replacement for swivel or recliner chairs that no longer function.
Coffee and other tables: Coffee, side, end, and sofa tables hardly bear any weight, so they may only need replacing when they stain, fade, or wear down.
Furniture That Can Last for Generations
The living room gives life to a home, and the furniture in this room should reflect that. Investing in high-quality furniture is your best bet to long-lasting pieces. With the right furniture, you won't need to think about replacing it for years.
For all your living room furniture needs, view our custom-made, local, stylish, and long-lasting pieces, or contact us if you have questions.