Getting new furniture is always an exciting experience, especially when you know your new furniture is sourced from local materials and manufactured in Canada. Calgary can be a tough climate to nurture furniture in, and you deserve excellent quality with long-lasting pieces.
At Birchwood Furniture, our team believes in offering excellent service and premium quality, and that includes helping you maintain your new wooden furniture that is built to last.
Things like watermarks can affect the quality of your wood furniture over time, so it is essential to remove them right away. Heat, oil, mild abrasives, and even household items can help you remove watermarks from wood furniture and preserve their quality.
Let's explore how to remove watermarks from wood furniture to help ensure they age elegantly.
High-Quality Wood Furniture for Your Home
The right choice of furniture can help take your home decor to the next level. That is why a new hand-crafted piece of wood furniture can help your space really feel like home. Investing in high-quality furniture can make all the difference in how you feel about your home.
While lower-cost items are an option, investing in higher-quality furniture can save you time, stress, and even money in the long run. More benefits of investing in high-quality furniture include:
Feeling confident in how it will look and wear for years to come
Increased durability
High-quality materials that improve aesthetics and comfort
Quality outlasting trends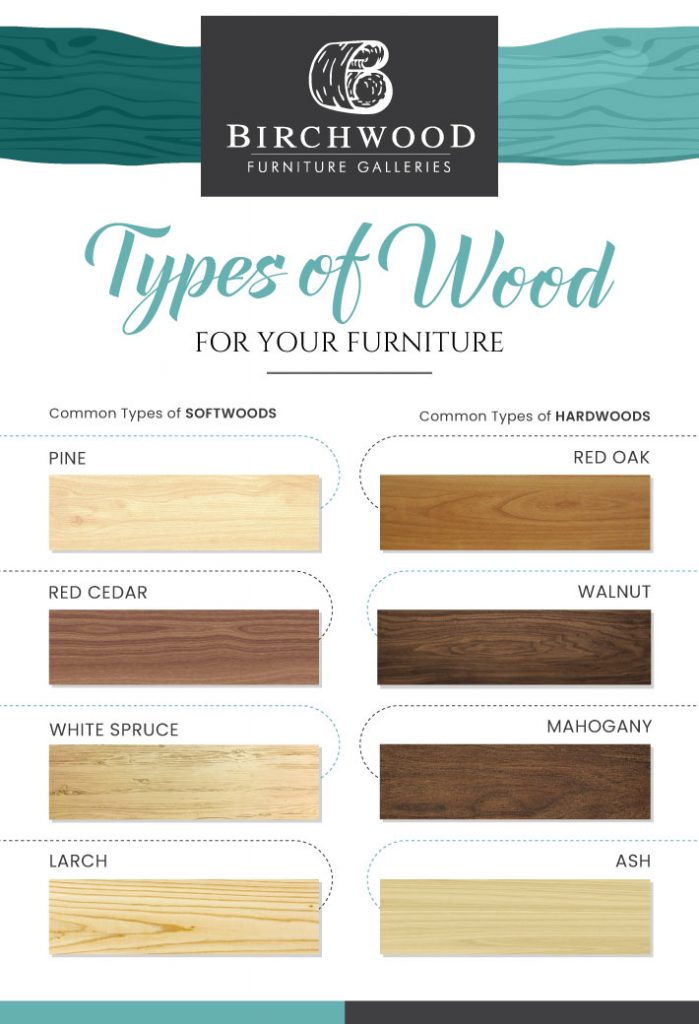 Different Materials for Your Furniture
Your furniture is made from different materials, including hardwoods and softwoods.
Common types of softwoods include:
Pine
Red cedar
White spruce
Larch
Softwoods are usually lighter in colour, and absorb adhesives and stains easily.
Common types of hardwoods include:
Hardwoods are typically more durable and long-lasting compared to softwoods. They also tend to be darker in colour and resist moisture well.
Suggestions for Preserving Your Wood Furniture
When it comes to wood furniture, maintenance is important to preserve the beautiful finish of your piece. However, sometimes things like watermarks are inevitable. Whether you just finished hosting a party or had a family gathering, not everyone may want to use those coasters you set out.
Watermarks can occur when moisture gets trapped between the wood and the finishing coat. The good news is that lighter watermarks can be removed through various at-home methods.
It is important to note depending on the condition of the piece—these suggestions are not guaranteed to work. Calling a professional for assistance is the most effective and safe way to preserve your wood furniture.
Removing Watermarks with Oil
Mineral oil is an option to help remove watermarks from your furniture as well. Using a soft cloth, apply the mineral oil to the stain in the direction of the wood grain, let a light coating sit overnight, then buff it out on the following day with a clean cloth.
Removing Watermarks with a Mild Abrasive
If the watermark is just a few days old and looks white and cloudy, a mild abrasive can help remove the moisture. The first step is mixing white non-gel toothpaste and baking soda. You can then use a soft cloth or old toothbrush to gently apply the paste to your furniture.
It's crucial to be gentle, as you can scratch or remove your furniture's finish if you apply too much pressure!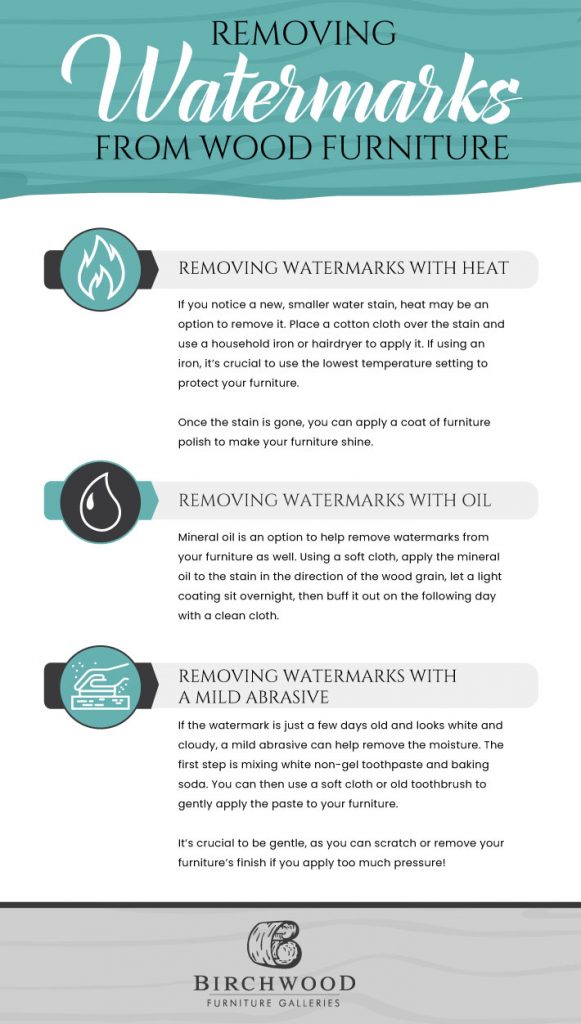 Long-Lasting Furniture
Watermarks on wood furniture can be challenging to move. While there are methods to help remove stains, it's important to be careful and not damage your furniture. If you're having difficulty finding techniques to preserve your furniture, we can help!
Contact us if you have any questions or concerns, and visit Birchwood Furniture or explore our online catalogue to find your new furniture today!