Whether you need new dining room furniture, bedroom furniture, or specific feature pieces, solid wood is always a great choice—but when you invest in wood furniture, choosing authentic, quality pieces can help you feel confident it will last for years to come.
It's important to know the furniture you purchase is actually solid wood. Real solid wood furniture often costs more, weighs more, and has noticeable features like construction features, carved details, and a natural wood grain.
It is possible for manufacturers to imitate some of the features of solid wood, such as a dovetail construction method or the appearance of natural wood grain, so speaking with local furniture experts is often one of the best ways to confirm whether a piece of furniture is solid wood.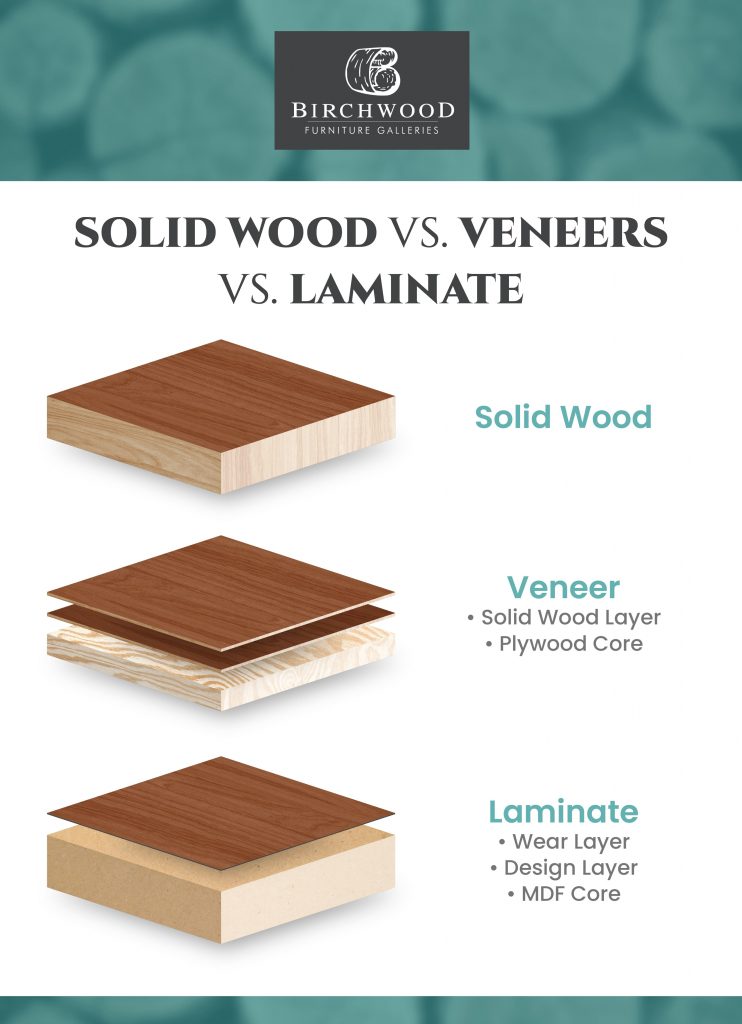 Materials Used to Make Furniture
There are many types of wood used to make furniture. Hardwood is typically preferred over softwood, but softwood can also be used for specific furnishing that may not need as much durability.
The hardwood materials used to make furniture include:
Ash
Beech
Birch
Cherry
Mahogany
Maple
Red Oak
Walnut
Softwood materials that can be used for furniture include:
Larch
Pine
Red Cedar
Western Hemlock
White Spruce
Veneer
A veneer is a thin layer of premium wood set in place over lower-quality materials—often plywood, fiberboard, or particle board. Veneers can be damaged over time and have fewer refinishing options than solid wood.
A simple way to tell if a piece of wood furniture has a veneer is to look at the sides and bottom. You may be able to see the places where the veneer is attached, as well as the material it's covering.
Laminate
Laminate furniture is made of thin layers of synthetic material bonded to higher-density materials like medium-density fiberboard (MDF). A variety of appearances and finishes can be applied to laminate material, including finishes meant to mimic the appearance of natural wood.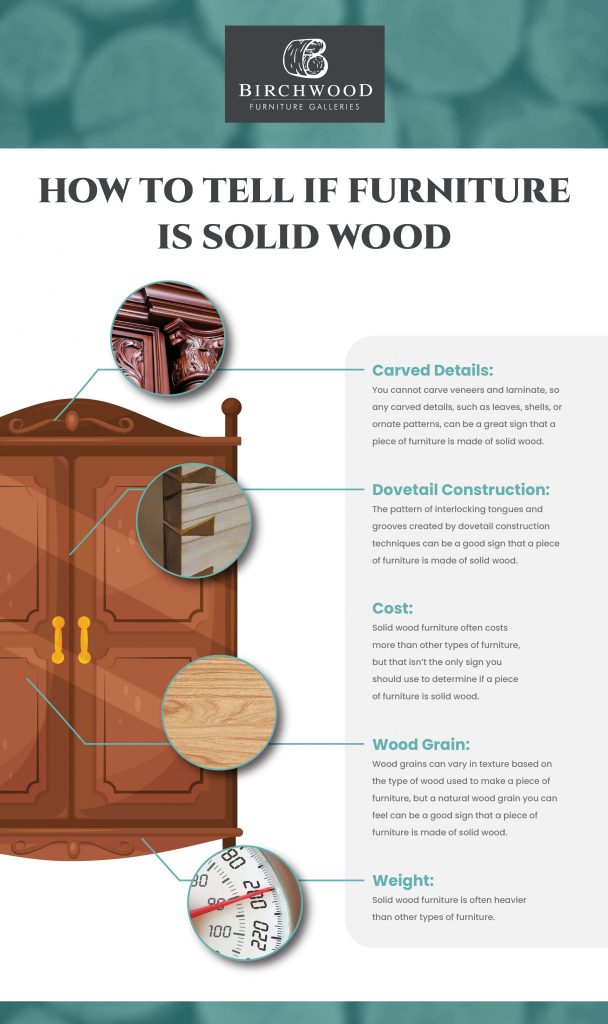 Features of Solid Wood Furniture
Weight
Solid wood furniture is quite heavy compared to other types of furniture. The exact weight of a piece of furniture can also depend on its size, but in furniture of similar sizes, a piece made of solid wood is usually noticeably heavier.
Construction
Traditionally, a dovetail method of construction was used to make solid wood furniture. You can identify this type of construction method by looking for interlocking tongues and grooves where two different surfaces meet, such as the sides of a drawer just behind the drawer front.
Looking for a dovetail pattern can be one way to determine if a piece of wood furniture is truly made of solid wood or simply has a veneer.
Modern manufacturing technology can make it possible to add a dovetail pattern to furniture as an added detail, so it's important to feel the material with your hands and look for other signs to confirm whether a piece of furniture is real wood.
Grain
A rough, textured, grainy pattern on the wood can be a good sign that a piece of furniture is made of solid, natural wood. Laminate can mimic the appearance of natural wood, but it's more difficult to mimic a natural wood texture.
The specific smoothness and pattern of the grain will depend on the type of wood used. Some woods, like oak, may have a rougher texture, while others, like maple and cherry, are very smooth.
Carved Details
Veneers and laminate cannot be carved, so carved details on a piece of wood furniture are a good sign that it's made of solid wood. Leaves, shells, animal features, and other natural imagery are all common carving motifs to look for.
Cost
In general, solid wood furniture costs more than laminate furniture or furniture made with a veneer. However, it's important to look for other signs of solid wood before paying a high cost for a piece of furniture, so you can be sure you're paying for something truly made of solid wood.
One of the best ways to be sure that you're paying for solid wood furniture is by ordering custom wood furniture. Custom-made furniture can be created to match your specific needs, and by selecting a material yourself, you can be sure that you're getting solid wood.
How to Maintain Solid Wood Furniture
When you do find a piece of solid wood furniture that you love, it's important to take care of it. With the right care and attention, high-quality wood furniture can remain beautiful and functional for many years.
Dust Weekly
Dusting isn't just important because of the potential health effects of dust but also because it can help your wood furniture look great and reveal hidden damage. Each week, take the time to dust your wood furniture with a microfiber cloth or feather duster.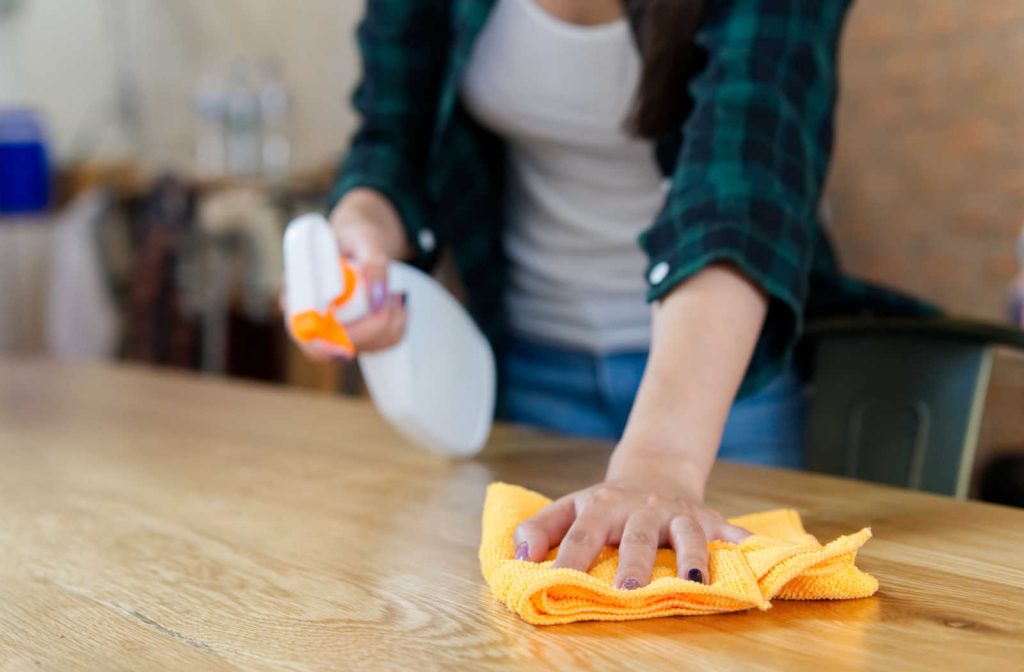 Clean Monthly
Solid wood furniture can benefit from regular cleaning to keep it looking new. This is also an opportunity to remove watermarks or other blemishes. Each month, take the time to wipe your wood furniture with products made specifically for cleaning the type of wood each piece is made of.
Avoid using regular household products for cleaning wood furniture, as they may cause irreparable damage. When using new products, start by spot-testing the product in a small area to confirm it won't cause damage before using it to clean an entire piece of solid wood furniture.
Polish Periodically
Waxing and polishing wood furniture isn't a requirement for upkeep, but occasional waxing and polishing can give them a bit of a refresh. This type of upkeep can be done about every month and a half or just before a big event where you want to show off your furniture.
Polishing and waxing wood furniture should be done sparingly, as frequent waxing and polishing may cause damage and weaken the surface of the wood.
How to Tell Furniture Is Premium Quality
Both the material used to make a piece of furniture and the way it was put together—its construction—are equally important when assessing furniture quality.
Furniture made from exceptional material may not last long if its construction is poor. Likewise, using an amazing technique to create furniture out of low-quality material can result in a product that doesn't last long before it begins breaking down.
Materials
Solid wood materials offer exceptional quality and can last longer than materials like particle board, pressed wood, and fiberboard. Both laminate furniture and furniture made using veneers often use lower-quality materials.
Construction
Premium wooden furniture is typically put together using wooden dowels, pegs, screws, and specially-made interlocking joints, such as dovetail joints and mortise-and-tenon joints. Less premium construction methods include the use of staples, nails, and glue.
Where Can You Get Solid Wood Furniture?
Finding the right furniture for your home can be difficult, but it doesn't have to be. At Birchwood Furniture, we offer Canadian-made, hand-crafted wood furnishings that are designed to last.
Contact us or visit our showroom to learn more about our custom-made solid wood furniture.