Renovating, redesigning, redecorating, or even just rearranging your living room can be a fun way to freshen up your living space, but when it comes to updating a living room with modern furniture, where do you start?
Getting inspiration for a new living room design is one of the most enjoyable parts of recreating your space. Some of the best ways to refresh a living room with a modern look are adding functional furniture pieces with clean lines and mixing natural materials and textures.
Even a single accent piece can make a living room feel like a whole new space, but you can also amplify that feeling with a complete set of new decor and furnishings.
Essential Furniture for a Modern Living Room
Furniture is a fantastic place to start with any living room refresh, and there are so many options for living room furniture—from stunning sectionals and charming accent chairs to classy coffee tables and ottomans.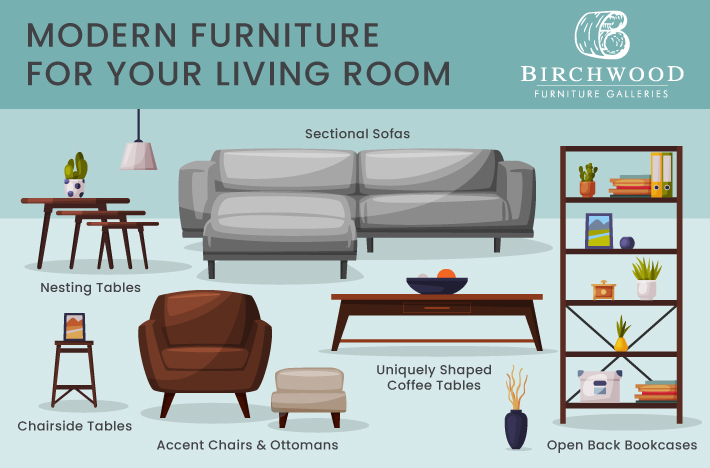 Sectional Sofas & Sofabeds
Sofas are the centrepiece of many modern living room layouts, but the right sofa can also be a subtle piece that lets other furniture in your living room shine.
Sectionals can be a great choice when you want your sofa to be a focal point in an entertainment-oriented living room, while smaller sofas and chairs are a great option for living rooms laid out more in the style of a sitting room.
For multi-use rooms and added functionality, a sofabed can be an exceptional combination to meet multiple needs.
Nesting Tables
Form and function are hallmarks of modern furniture and room designs. Nesting tables are uniquely functional pieces of furniture that reflect both those principles.
A set of nesting tables can meet a variety of needs for multiple events and situations and then tuck into themselves for easy storage when they're not in use. When they're made of beautiful local materials, your nesting tables can be a notable part of your living room furnishings.
Bookcases
Bookcases often evoke traditional design aesthetics and a sense of cozy, timelessness, but your shelves and bookcases can also reflect modern design trends.
An open back bookcase made of premium quality wood can fit into both contemporary furniture collections and classic room designs. You can also opt for more traditional bookcases and decorate them with modern home decor to fuse modern and traditional design themes.
Coffee Tables
You don't have to settle for a standard coffee table. Coffee tables sit right in the center of many room layouts, so why not choose a coffee table with a unique shape and eye-catching features? When you take the time to find a coffee table that meets all your needs, you can even opt for built-in storage to help you keep your living room neat and tidy.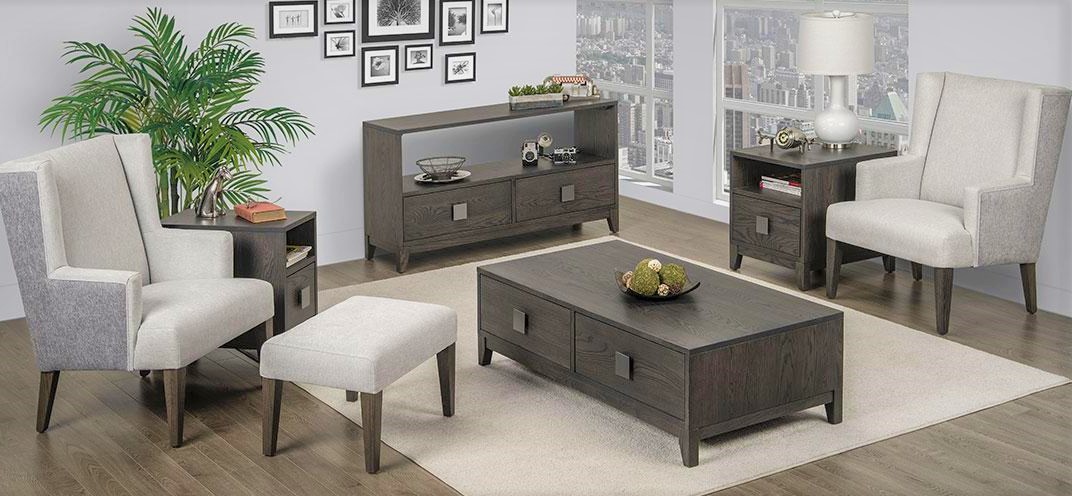 Ottomans
An ottoman is a smaller piece of furniture that can leave a lasting impression. When you want to relax and put your feet up, an ottoman can be there to support you, and some ottomans can also provide built-in storage and other custom features.
With the right design and fabric, an ottoman can be customized to fit a variety of modern living room furniture collections.
Chairside Tables
When it comes to smaller pieces of furniture that can tie a room design together, chairside tables and other small tables offer an exceptional solution for combining form and function. Every sofa and chair can be equally served with support from a table for anyone who might need to set something down.
With different designs and styles, accent tables can be beacons of modern aesthetics and contribute to the greater vision you have for your living room.
Upholstery
Choosing a beautiful piece of furniture is a great starting point, but you may also want to consider what those pieces are made of and which fabrics you can use for upholstery.
Start by considering how your upholstery fits into the aesthetic created by your physical space, beginning with your walls and floor. Your furniture fabrics can match your existing decor to create flow, or they can contrast to help specific parts of your room design stand out.
You have a lot of options for furniture upholstery, so whether you want accent pieces that function mostly as decor or upholstery for durable, everyday furniture that can still look wonderful after repeated use, we can help you find a fabric you love.
Living Room Design Inspiration
Your living room furniture is just part of the foundation of your overall design. The appearance of the furniture you pick also plays a role in the overall theme of your space. Considering design elements like colour, material, and functionality can help you create a truly spectacular living room.
Add Character with Colour
Whether you prefer a pop of colour or a neutral design, you can add your personality to a space by choosing tones and colours that work well together.
When you want to add colour, choosing the same colour for your accent pieces can help create a sense of cohesion throughout your living room. On the other hand, if you prefer to leave colour out, a black and white or neutral theme can be a stunning choice that reflects modern design trends.
Tones can also play an important role in the aesthetics of both colourful and relaxed room themes. Bright tones can help a space feel lively and energetic, while darker tones can help a space feel cozy and calm.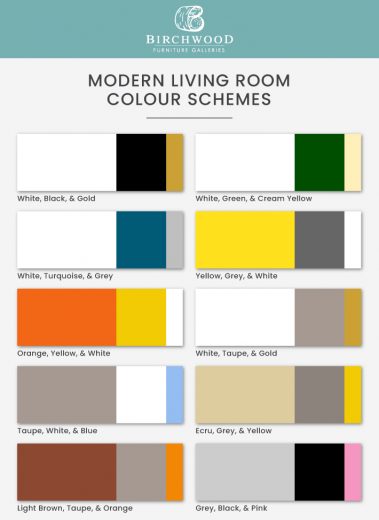 Nestle Yourself in Natural Accents
Adding organic materials to a room is a hallmark of modern room designs that blend the natural world with the home. Accents made of natural materials and pieces that evoke organic, asymmetrical designs can fit well with many different themes and aesthetics.
Wood can be an excellent choice for furniture that evokes natural qualities but still has a modern design. Subtle wood accents come in a variety of shapes and sizes, from distinct individual accent pieces to smaller features on larger pieces.
Add Custom Comfort
One of the most satisfying benefits of finding new living room furniture is creating a space that meets all your needs. Think about how you use your living space—or how you want to use it—and try to find furniture that can help you create a room customized to fulfill your needs with full functionality.
Entertainment units are a great choice for lively living rooms, while desks and other office furniture can be interesting accent pieces for quieter spaces. Don't be afraid to mix and match styles and designs. Living rooms are large spaces with many potential uses. Your living room pieces can be a combined collection of furnishings that meet a variety of needs.
Get Started on Your Living Room Revamp
Finding furniture you love can be a challenge. Rather than check every furniture store in Calgary, you can rely on the experienced, friendly furniture experts at Birchwood Furniture. We can help you find exceptional, Canadian-made furniture suited for a variety of living room spaces.
Visit us in person or browse our collection online to get started on your search for fantastic living room furniture.