A home office can be a wonderfully productive space—as long as it's designed to meet your needs and support your work routine. It can be challenging to create a functional design for productive work in a small space but you can do it.
Some of the solutions you can use for small workspaces include the following:
Use L-Shaped furniture
Use seamless furniture
Follow minimalist design principles
Choose specialty corner furniture
The particular shape and size of your office space are often 2 of the most significant factors when it comes to determining which design solutions, office furniture, and feature pieces you choose—but whether you're working in a spacious office or an cozy nook, there are strategies you can use to create a functional space that fits your workflow.
L-Shaped Furniture
L-Shaped Desks
Making the most of your space is essential when you're turning a small space into an office, and that means choosing furniture that can optimize how you use every part of the room—including the corners.
A long, narrow, L-shaped desk or table can provide a full, flowing workspace that fits snugly into the corner of a small office, but you can also use it to create a unique workspace in other ways.
One interesting feature of an L-shaped desk is that it can separate space in a room. For example, putting an L-shaped desk in the centre of a room can help create 2 different areas in a single space. Dividing a space in that way can sometimes help smaller spaces feel bigger.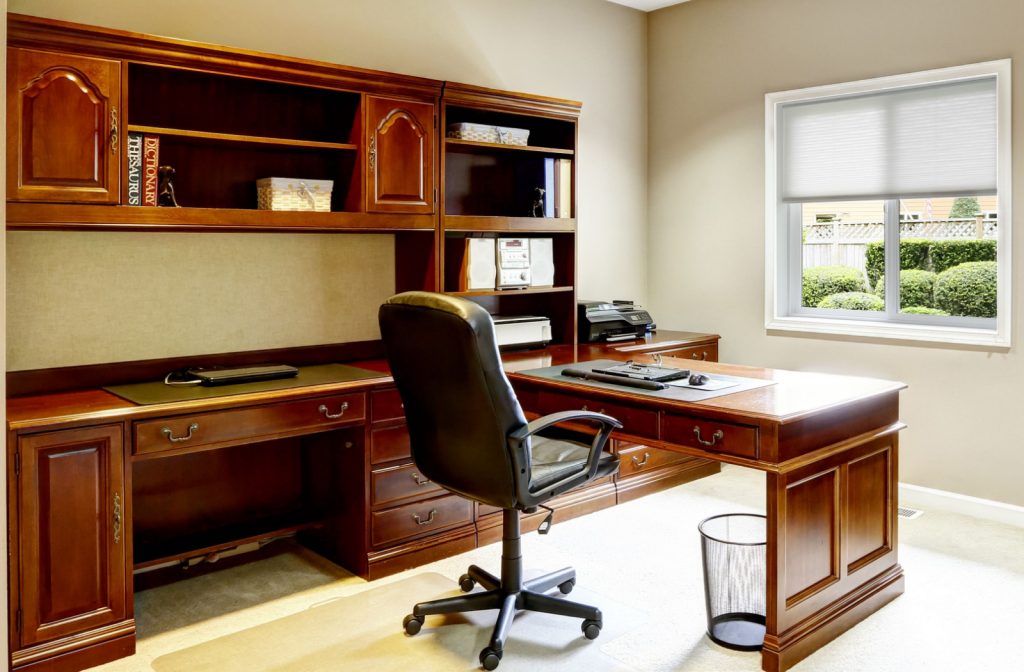 Custom Bookcases
One of the most important things to remember for office furniture is that when you choose locally made pieces, you can often get them tailored with different shapes and sizes to match the unique layout of your space—and that includes items more tailored toward storage.
Bookcases that fit together at an angle can help open up space on the side walls of a smaller office and provide full use of the space in a smaller room—without cutting corners. They can also be interesting, eye-catching features that add character to smaller offices.
Seamless Furniture Styles
In small workspaces, storage can become even more important for controlling clutter and promoting productivity. There's a basic organizational principle that can apply as much to your desk drawers, cabinets, or closet as it can to your larger furniture pieces—a place for everything and everything in its place.
When it comes to furniture designs that promote organization and cleanliness, seamless furniture is often an excellent choice. Seamless furniture is designed so you can tuck it away when it's not in use but still have convenient access to it when you need it.
Some of the functional, petite home offices we love feature drop-down tables that lower down and extend from a mounted position on a wall, which can be particularly useful for those working with mobile setups or in areas with multi-use needs.
Depending on the workspace you're creating, you may also want to consider a set of nesting tables, which can tuck into each other for simple storage while remaining available for various needs.
Minimalist Office Spaces
The less there is to distract you while working, the easier it can be to focus on what's important.
One key principle of creating a minimalist workspace is eliminating what you don't need while working. That doesn't mean you have to get rid of your plants or decorations though! Keep the inspiring elements of your space. You can start creating a minimalist workspace simply by opting for a basic desk with built-in drawers, or choosing a simple writing desk, depending on the nature of your work.
Multi-Purpose Spaces
Sometimes, a smaller room needs to meet multiple needs, such as an office that also spends time as a guest room. Finding the right furniture for those multi-use spaces can be challenging—but it's not impossible.
Transitional furniture that serves multiple purposes can be a great choice for multi-purpose rooms. For example, a bookcase with doors can help provide easy access to critical reference materials while also creating space to tuck away linens. Likewise, multi-functional furniture pieces like sofabeds can provide a place to sit for meetings and a place to sleep for guests.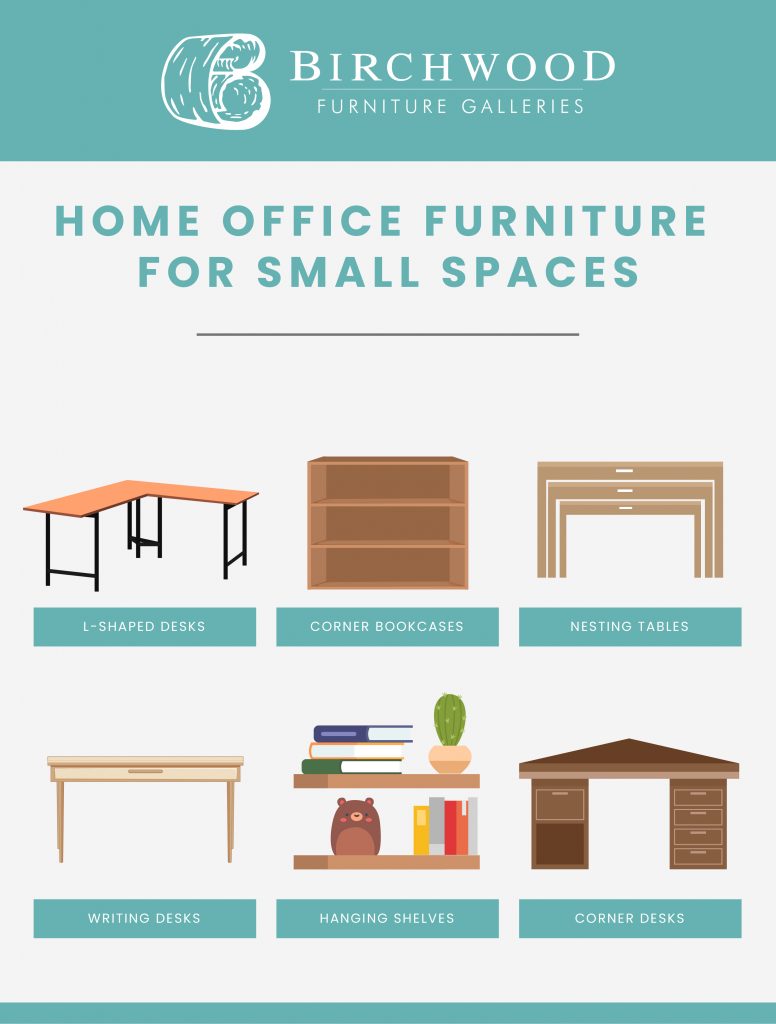 Modern Corner Furniture
Sometimes, you don't have an extra room or den to use as an office. If you're in an apartment or condo, you might only have the corner of a room available for your workspace. That might feel like a major restriction, but you can still create an ideal workspace with the right furnishings.
A custom-built corner desk with a specific space for a printer, books, and anything else you may need can be perfect for creating a functional workspace—and it can also be a unique, eye-catching feature of your overall living space.
Or, maybe you just wish you had somewhere to work in the small space by a window, balcony, or nook in your home. Custom furniture can also meet that need with designs based on the unique shape of those spaces in your home.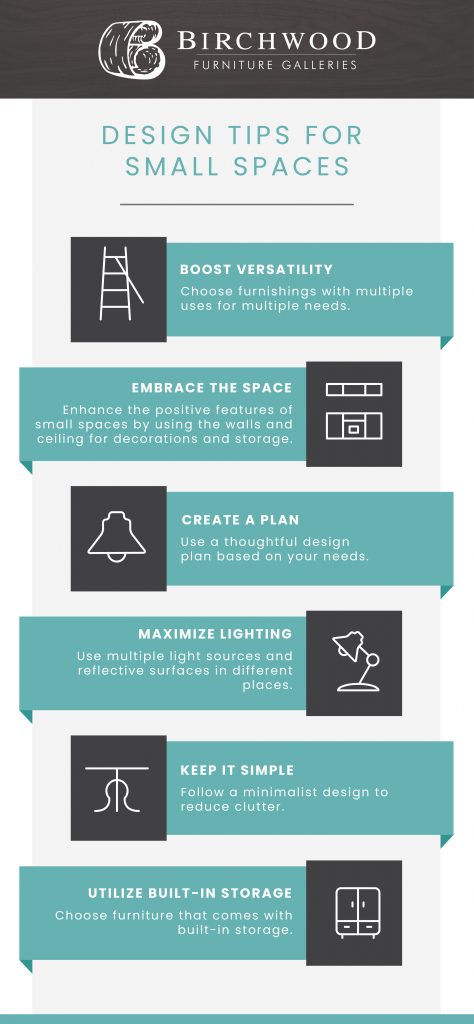 Design Principles for Small Spaces
Whether you're creating a new home office in a small extra bedroom or trying to make the most of a smaller space for a different purpose, there are several principles you can follow to emphasize the positive aspects of your space.
Focus on Versatility
A small room can often feel cramped and stifling, but you can counteract that effect by establishing a sense of control in the space. Usable spaces can often feel larger than they are. The more versatile and functional the furniture you choose is, the greater sense of control and space you can establish for your smaller rooms.
Embrace the Smallness
Small spaces aren't all bad. With the right touches, you can embrace a small space to emphasize its coziness and charm. A simple method for embracing a small space is to use every available surface for storage and decorative elements, including the walls and ceiling.
Create a Plan for Intentional Design
Many small spaces are unique—and so are your needs. Creating a plan before you get started on a room makeover can help you maximize the effects of your furnishings and the layout of your space.
Consider the following for your plan:
The layout of your space
Your furniture needs
The potential uses for your space
The storage elements you may need
Your options for versatile furniture
Focus on Lighting
In addition to furnishings, lighting is one of the most important elements of any living space—especially a small living space. Shadows can make a room seem smaller, so many of the ways you should manipulate lighting in a small space are based on eliminating shadows.
Try using multiple light sources placed at different points throughout the space to get even light in the room coming from multiple angles. You can also use reflective sources to bounce light around a small space, including everything from mirrors to more subtle materials like polished wood.
Maximize Your Storage
When it comes to smaller spaces, controlling clutter is crucial. Furniture with built-in storage features can be a great avenue for creating more spaces to put things. Even smaller pieces like ottomans can make a notable difference for providing more storage.
Don't be afraid to get creative with your storage. Using baskets and boxes that can be tucked away under larger furniture can help smaller spaces feel tidy. The key is to use those storage spaces effectively based on your needs.
Furniture for Your Small Spaces
From office furniture to accent pieces, we can help you find furnishings that can maximize the functionality and aesthetics of your smaller spaces. At Birchwood Furniture, we love helping Calgarians find quality, locally produced furniture to make home decor dreams a reality.
Come visit us to learn more about the furniture we offer and how we can help you refresh your living space with furniture designed based on your goals, lifestyle, and layout.