How often do you set your dining table for meals? Although it may not be as common for regular meals, setting your dining room table can be an enchanting way to enhance your dining area for family and friends during brunches, dinners, and other gatherings.
There are multiple ways to set a table, and your dining room furniture can inform the way you dress up your table. You may want to use a setting arrangement that accents length for a rectangular dining table, while you may prefer something more casual with smaller accents for a square dining table.
When setting a dining table, you can choose accents, accessories, and patterns that match and complement the size and shape of the table. For example, longer decor and geometric patterns often work well for rectangular tables, while circular, smaller decor often looks lovely on round tables.
Rectangular Dining Tables
Rectangular dining tables might seem intimidating because of their size, but they're really gentle giants. The key to setting and decorating a longer table is to use decor that highlights the table's sleek, strong lines.
An elegant runner placed along the center of a rectangular table can emphasize your table's shape while bringing a cohesive element to your table setting. Long, low flower arrangements that stretch horizontally along your table can also highlight your rectangular table's distinct lines.
Neatly folded cloth napkins and matching placemats with simple colours and patterns can add a subtle highlight to your setting and coordinate with other decor in your dining room. For a more dramatic setting, add height with evenly spaced candle holders or candelabras.
Round Dining Tables
Round dining tables benefit from decor that matches their organic shape. Of course, you should generally opt for a circular tablecloth and circular placemats, but you may also want to look for decor that features round or curved patterns and designs.
Centrepieces can also make a wonderful focal point and conversation starter for circular table settings that emphasize the cozier feeling of many round tables. Depending on the size of your circular table and the available space beside your dining ware, you may also want to place round candle holders in a circular pattern around the table near each dining setting.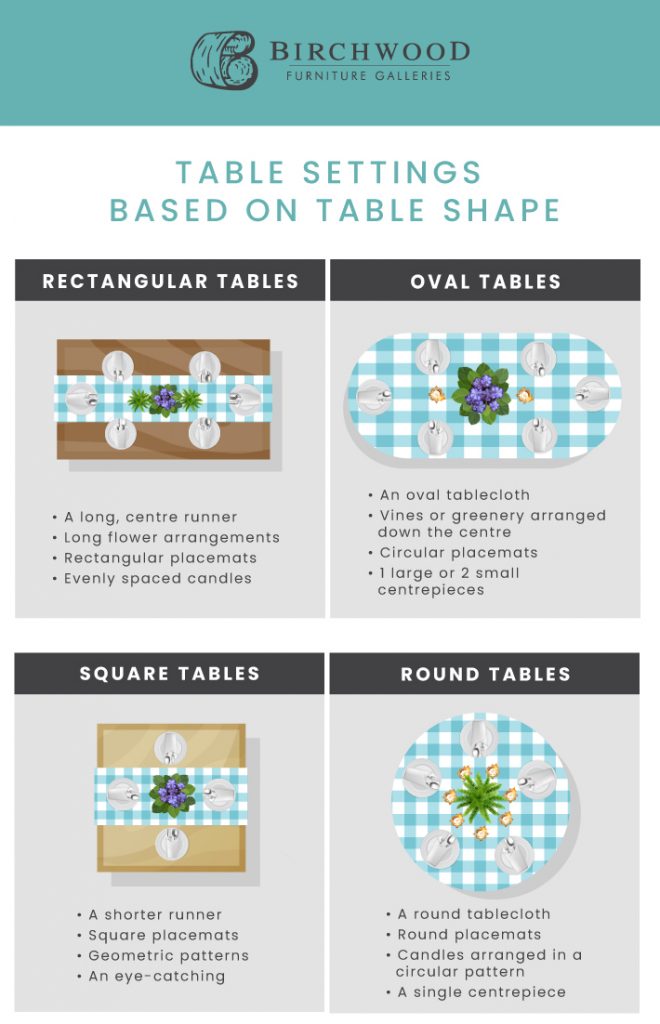 Square Dining Tables
A square-shaped table arrangement should include decor and accent pieces that highlight its clean lines without overwhelming the space available on the table. If you have a square dining table with a leaf that can be inserted to make it rectangular, you may want to opt for decor that can suit both rectangular and square table settings.
Runners can work well for square dining tables as long as they're the right size for the table. Rectangular placemats can also suit a square table, but you may want to choose smaller, square placemats instead.
Because of their smaller general size, square tables can benefit from eye-catching centrepieces, such as floral arrangements or a single candelabra. You may want to consider searching for decor with a geometric pattern to match the clean lines of your square table—or consider other square and rectangular accent pieces to tie the rest of your dining room together.
Oval-Shaped Tables
An oval dining table is like a hybrid between rectangular and round tables. In some cases, there are also round tables with a leaf that can be added to make them longer oval-shaped tables. As with round tables, you should set an oval table with decor that matches its shape.
Instead of a rectangular or circular tablecloth, your oval table may benefit more from a specific oval-shaped tablecloth. For your central feature, you can create a uniquely organic sense of movement on oval tables by arranging cascading greenery or vines down the centre.
In some cases, a single large centrepiece or 2 medium-sized centrepieces can create a balance between the length and circular shape of an oval-shaped table.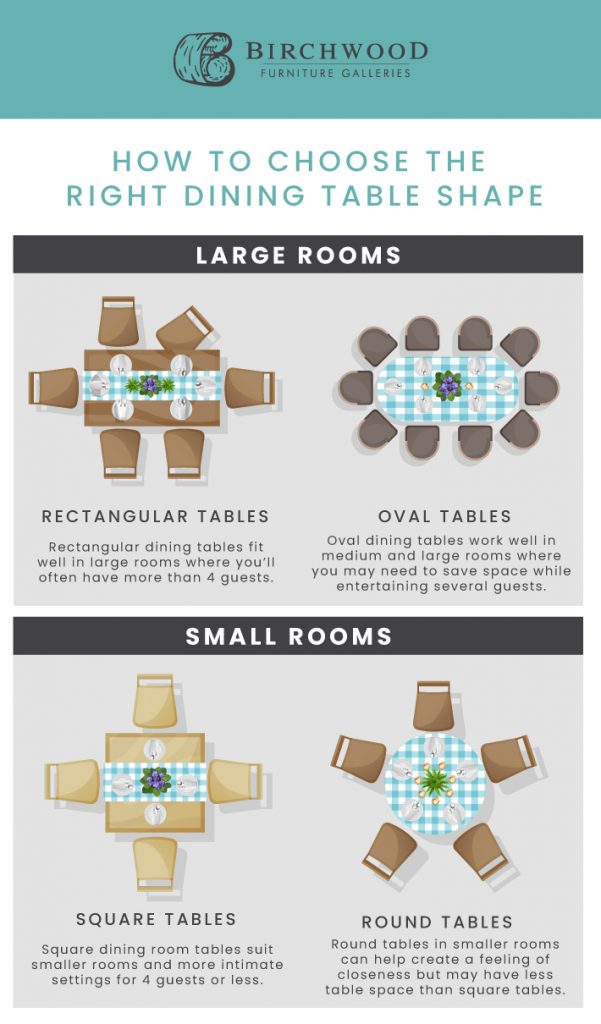 Freeform Dining Table
A freeform dining table—a table without a uniform shape—can offer endless possibilities for table settings. You may want to opt for decor with irregular shapes or mixed patterns to highlight your table's unique design or choose simple decor that brings more attention to your table's iconic design.
What Are the Different Types of Dining Table Settings?
Setting a table can be like an art form, and there's plenty of room to experiment with your own unique settings. However, when you need inspiration—or a simple guide for where to put a salad fork—you may want to begin with the 3 essential setting styles: basic, casual, and formal.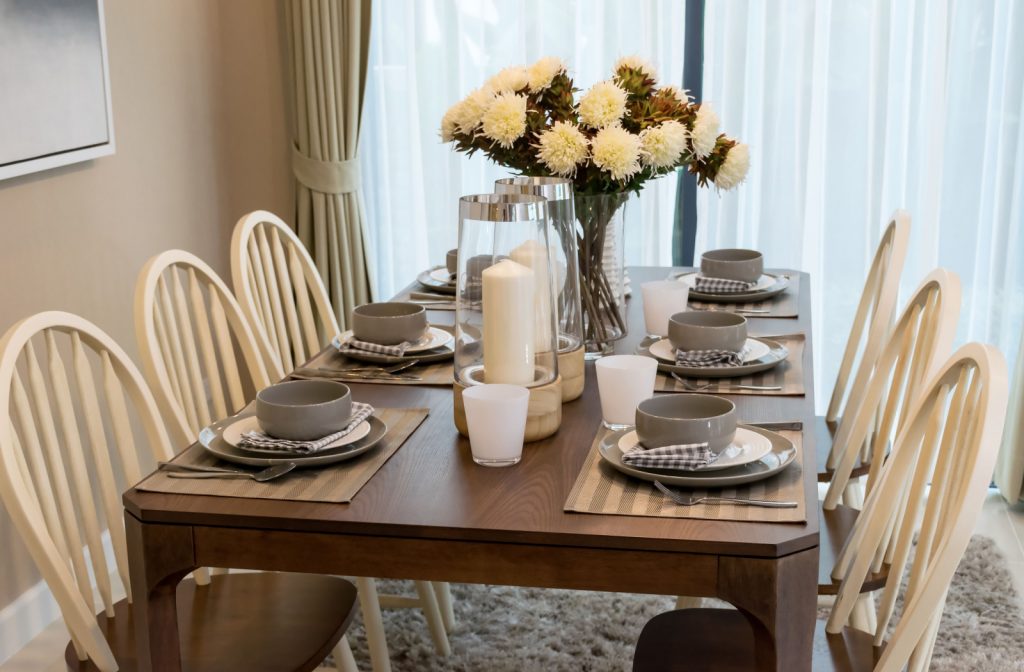 Basic Table Settings
Basic table settings should have a placemat with a plate placed in the centre, a napkin placed to the left with a fork resting on top, and a knife placed to the right. A glass can be placed to the right of the plate as well, above the knife on the table.
You only need to include a spoon if you'll be serving food that should be eaten with a spoon.
Casual Table Settings
Casual table settings can be wonderful for brunches or dinners where you'll be entertaining guests and want to show off just a little.
In a casual table setting, you can build on a basic table setting by including a salad plate or soup bowl placed on top of the dinner plate (if you are serving salad or soup). You may also want to include a second glass—either a wine glass or another specific glass for the beverage you are serving.
Formal Table Settings
Formal table settings can be reserved for intimate meals or gatherings where you truly want to impress your guests. These types of table settings are often used for meals with multiple courses and traditionally feature a charger—a decorative presentation plate—placed under the dish or plate being used by a guest.
Formal table settings typically do not include placemats, although a circular placemat may be used under a charger. To cater to each course of a meal, a formal table setting may also include specialty dining ware, such as a salad fork placed to the outside of the dining fork or a dessert spoon placed above the charger.
In some cases, each guest may also be given their own place card, salt shaker, and pepper shaker for a formal table setting—and separate glasses may be provided for red and white wine. A bread knife and bread plate may also be added, placed above the forks and napkin.
How Do You Choose the Right Shape for Your Dining Table?
There are 2 details you must consider when selecting the right shape for your dining room table: the size and shape of your dining room and the number of guests you expect to entertain.
For larger rooms where you'll be entertaining more than 4 guests, opt for a rectangular or oval table or a larger round dining table for more seating depending upon the size of the room. For smaller rooms where you'll be visiting with fewer people, a square or round table can feel more comfortable.
You can also choose dining tables with an insertable leaf that helps them expand in size, allowing you to choose the right shape and size for your needs, even as your needs change.
Get Guidance for Your Dining Table Needs
It's not always easy to find a dining table you like—that's where we can help.
At Birchwood Furniture, we love helping Calgarians with their furniture needs. Whether you need advice on picking dining room furniture for dark floors, or you want to explore your options for the right shape of dining room table—we can offer expert advice and locally made furnishings.
Contact us or visit us today to discover your next dining table.