Finding the right bedroom furniture for a long, narrow bedroom can be essential for creating a comfortable space that promotes relaxation—but how you arrange your bedroom furniture can also make a difference.
When you are arranging furniture in a small, narrow space, follow this rule: place furniture in a layout that helps keep the room spacious and provides convenient access to essential furniture pieces.
With the right interior design techniques and a little planning, you can turn a narrow bedroom into a space that meets a wide range of needs. You might be surprised to learn how many options you have for adding your personal touch to a small space—you might even be able to fit in some accent pieces like a small chair or bench.
Some of the tips we recommend for small, narrow rooms include the following:
Divide the room into sections
Promote easy traffic flow
Optimize your bed placement
Use vertical and horizontal space
Pay attention to lighting
Choose quality over quantity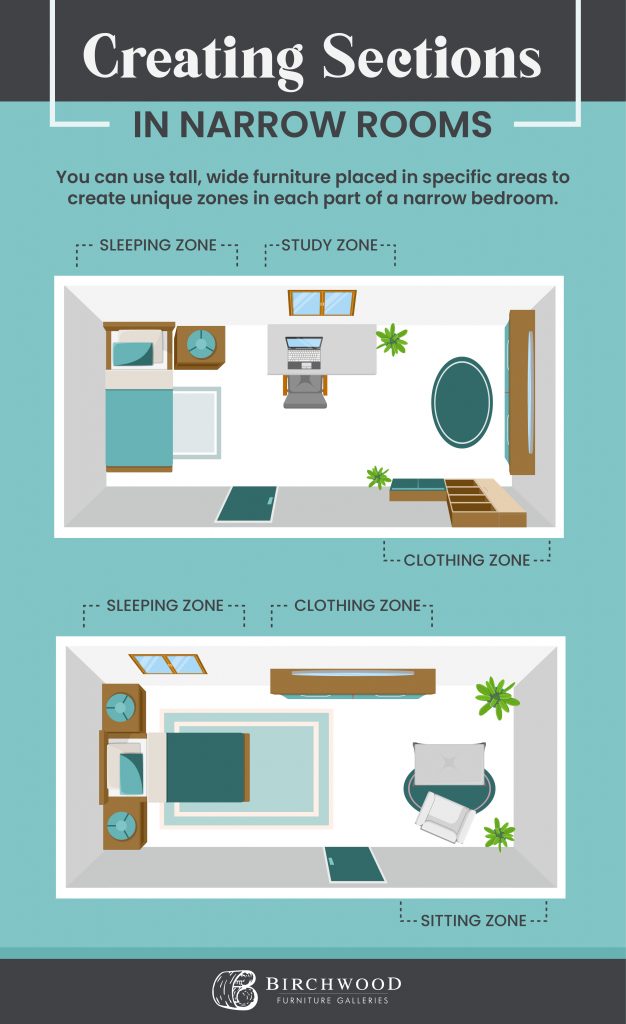 Divide the Room into Sections
Creating a thoughtful room design with a functional floor plan is one of the key interior design techniques for small spaces. Your bedroom can be a sanctuary that is so much more than a place to sleep, so consider how you want to use the space and how the layout can inform its purpose.
For example, try creating a section for your bed, a specific sitting area or workspace, and an isolated area for clothing storage. By using furniture like your bed, desk, or wardrobe in creative ways, you can create natural barriers that divide your bedroom while flowing with each zone's function.
When you divide your bedroom into specific sections, you can create unique, purposeful zones that actually make the room feel bigger.
Choose a Layout that Creates Harmony
Arranging your furniture to provide enough space for comfortable movement is not just important for helping your bedroom seem big. The right layout can also help your bedroom feel more relaxing, comfortable, and harmonious.
Your bedroom layout should be based on your needs, the available space in your bedroom, and the position of your windows and doors. Try not to block out any natural light from your windows with tall furniture. The key is to create easy access and comfort for each of the key areas of your room.
In spaces that are long and narrow, one method for creating harmonious flow is to leave an open space that runs from your bedroom door to the opposite wall. If your door sits in a corner, you can place all your furniture along the long wall your door does not touch to add a sense of flow and functionality. If your door is in the middle of a wall, you can create 4 distinct, balanced zones by placing furniture in each corner.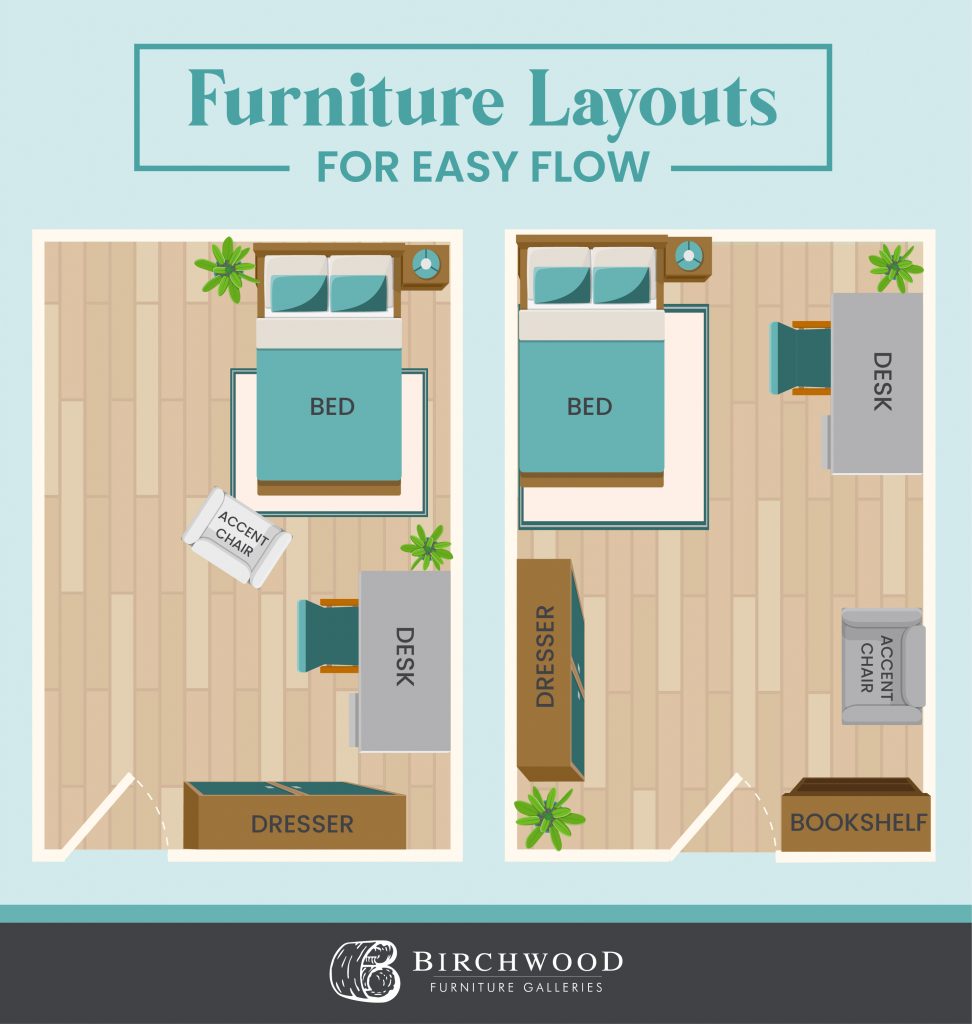 Optimize Your Bed Placement
As the piece of furniture from which your bedroom gets its name, your bed will often be a natural focus of your bedroom layout. Choosing the right placement for your bed can be the difference between a space that feels cramped and a space that feels open.
In narrow rooms, placing your bed lengthwise against a short wall often draws attention to the narrow width of the room and makes it feel smaller. Instead, try flipping your bed so it sits with its headboard against an end wall. The length of your bed can help draw out the length of your bedroom, so it feels bigger.
Optimizing your bed placement to fit the shape of your bedroom also helps provide an anchor point you can use to create a floor plan with a sense of balance that fully utilizes your available space.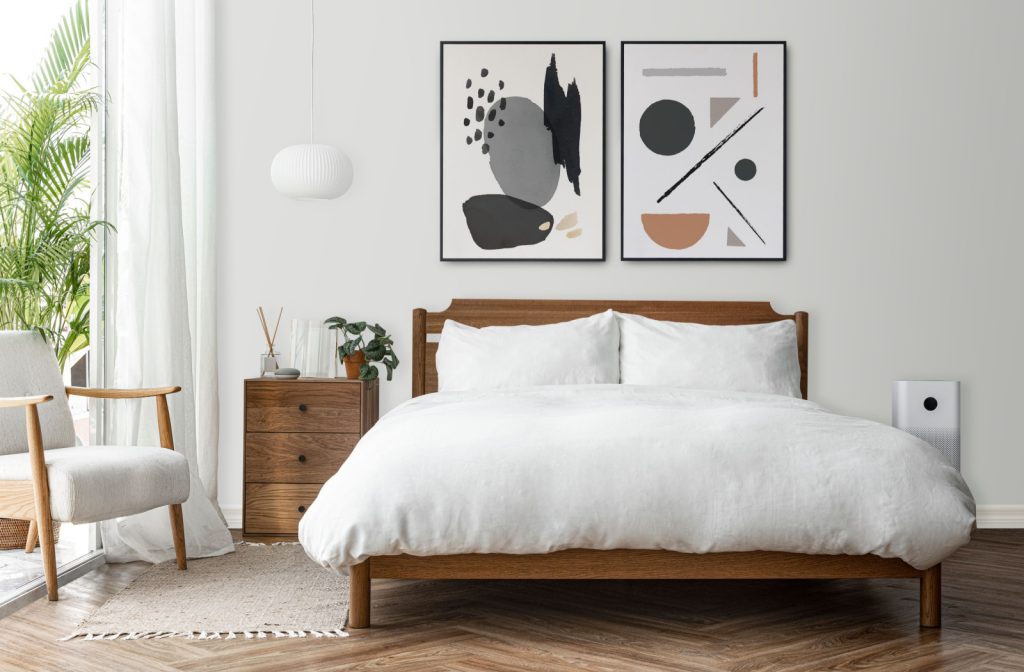 Use Vertical & Horizontal Space
In any small bedroom with limited floor space, you will naturally have fewer options for building out a furniture layout—but that does not mean you cannot build up.
Bookshelves and a tall, narrow dresser can help you make full use of your vertical space. For nightstands, try to find a design that prioritizes height over width—perhaps with 1 or 2 shelves on the lower sections of the nightstand.
You can also use wide furniture to take full advantage of the space in a longer bedroom. For example, a long, high dresser can be a great piece for a long wall that helps create a specific clothing zone in a narrow bedroom.
Pay Attention to Lighting
Both artificial and natural light can help a narrow bedroom feel more comfortable and inviting. To make the most of natural light, try placing mirrors opposite the windows in your room to catch and reflect sunlight.
For artificial light, try to create a blend of ambient light, task lighting, and accent light with features like wall-mounted sconces and pendant lights. The right lighting for narrow bedrooms often includes features that can hang on your ceiling or wall to add light and visual interest without taking up valuable floor space.
Choose Quality Over Quantity
Clutter can be a comfort killer in a small bedroom. Rather than choosing multiple pieces for each unique need, try to find quality furnishings that work together to create a cohesive aesthetic. You can make full use of your furniture by searching for multipurpose pieces—such as a media chest that can hold your TV and provide storage, or a bed frame with built-in storage.
Where Can You Find Furniture for a Small, Narrow Bedroom?
Whether you need a functional bed frame for a smaller room or feature pieces for another part of your home, getting quality furniture made from locally sourced materials is vital for any space.
At Birchwood Furniture, our family is proud to offer Canadian-made furniture with craftsmanship that can meet the needs of Calgarians. We are passionate about helping each member of our community enjoy every space in their homes with furniture that is built to last and designed for style.
Visit us in person or online to browse some of our offerings and learn more about us. We would love to help you find the right pieces for your home.