Choosing the right fabric for custom, hand-made furniture can be the difference between fantastic furnishings and less pleasant pieces. There are many beautiful options to choose from, but it is important to select something that suits both your personal taste and your furniture needs.
The best upholstery fabric for your furniture is the option that meets your needs for fabric durability, furniture use, and style. There may be more than one option when it comes to durability, so when in doubt, let your style guide you.
Consulting your local furniture experts can also help you determine what to consider for your fabric. Whether you are looking for the right fabric for your next living room sofa or you want a new ottoman to accent your office, selecting the right upholstery fabric can help you create beautiful furnishings that can last many years.
What to Consider when Picking Upholstery Fabric
It is tempting to think about looks before anything else when you are picking fabric, but there are other important details to consider. Your taste is important, but the fabric you choose needs to meet all your needs, so it is also important to consider how your furniture will be used and which fabrics have enough durability to meet your needs.
Furniture Use
Thinking about furniture use is especially important for households with children and pets. If you are picking upholstery fabric for a piece of furniture that will be placed in the family room and see a lot of use, consider choosing something with enough durability to resist stains, scratches, and pulling.
If you are picking upholstery for accent pieces or areas of your home where your furniture gets less use, you can opt for a fabric that has less durability to get a specific look for those pieces.
Keep in mind that even with high-durability fabrics, there are many options that can suit your style and room decor. Choosing the right fabric for high-use pieces can help keep your furnishings in great condition.
Room Aesthetics
Of course, choosing furniture that matches your style is important. The best upholstery fabric for you should be something you love seeing and feeling. There are countless options when it comes to aesthetics, but keep in mind the material you choose may affect your options for colour and patterns.
Upholstery fabric can complement your design motifs or contrast with them. Choosing fabric that matches your existing decor can help create cohesion within a room's design, while choosing something that stands out can help an accent piece shine even brighter.
For example, a leather sofa can look fantastic in a room with an established rustic design, but a luxurious leather chair can also stand out as an eye-catching piece in an office with a modern aesthetic.
Fabric Durability
Part of the durability of fabric upholstery often has a direct connection to thread count.
For fabric, thread count refers to the number of threads per square inch. To make it simple, the higher the thread count, the tighter your fabric is woven—which means it can stand a better chance of wearing with grace rather than tearing in place.
It is also important to consider which fabrics are easier to clean and maintain, and which might resist your efforts to remove a stain.
Fabric Design
In addition to the way a particular fabric naturally looks and feels, you should also consider the design options you have for your fabric of choice. Do you want a solid colour or something with a pattern?
When it comes to choosing a pattern, you should also consider furniture size, as complex patterns tend to look better on smaller feature pieces like accent chairs.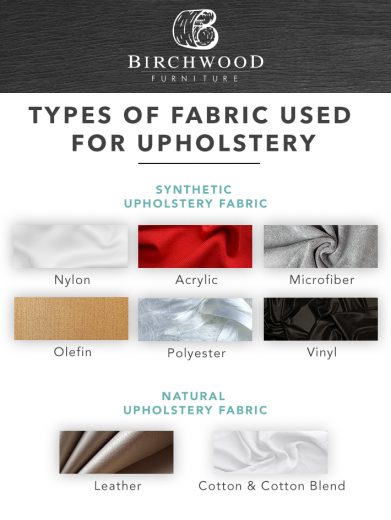 Natural Upholstery Fabrics
Many fabrics are woven from natural materials. These can be a great choice for those concerned about sustainability.
Natural upholstery fabrics vary in their levels of durability, but there are great natural options for both high-use furniture and stunning accent pieces.
Cotton
Cotton has good resistance to wear, fading, and piling, but is less resistant to stains, wrinkling, and burns. Other materials can be blended with cotton to increase its durability, which can also vary based on the weave and finish of your particular cotton fabric.
Cotton Blend
Cotton blends can be great family-friendly fabrics depending on the weave used to make them. High-quality, performance cotton fabrics and cotton blend fabrics can be fantastic for pieces that will get a lot of use.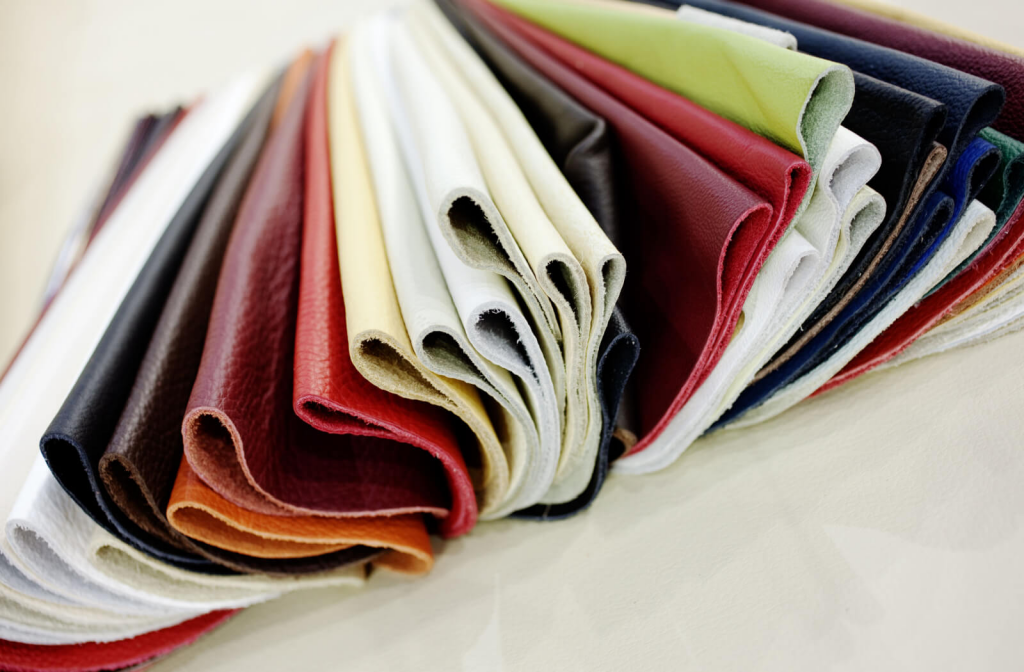 Leather
Leather is a tough material that can be gently vacuumed, spot-cleaned with a damp cloth, and deep-cleaned with leather conditioner or saddle soap. Leather can age and develop a patina over time, which can look great in the right design.
Synthetic Upholstery Fabrics
Acetate
Acetate is a synthetic silk alternative best used for pillows and decorative furniture pieces that won't see frequent use. Unfortunately, because acetate can tear easily and is sensitive to high temperatures, it's not the best choice for furniture that will see frequent use, but it can still be an option worth considering for specific accent pieces.
Acrylic
Acrylic was developed as a synthetic alternative to wool that can resist wear, wrinkles, and stains. It also has good resistance to fading, and some varieties are manufactured with more resistance to pilling.
Microfiber
Microfiber is a durable material made from polyester that feels like velvet. Because of its exceptional resistance to moisture, stains, and fading, microfiber can be a great upholstery material for furnishings in high-use areas.
Nylon
Nylon is rarely used alone. Instead, it is blended with other fabrics to achieve exceptional durability. Nylon is very resilient and can help eliminate the crushing of napped fabrics like velvet when blended. It also resists stains and wrinkles well but can still fade and pill over time.
Olefin
Olefin is highly resistant to stains, mildew, abrasion, and sunlight, which makes it an outstanding choice for furniture that gets heavy use, including outdoor pieces.
Rayon
Rayon is another synthetic silk alternative best used for furniture that sees less use. Because of its lower durability, Rayon can rip or tear easily, which may be a concern for homes with children and pets. Rayon is also susceptible to sun damage. Rayon should be chosen carefully for upholstery uses and reserved for decorative, accent pieces or pillows rather than larger, family furniture.
Vinyl
Vinyl can be an excellent alternative to leather that provides a similar look and feel but has less specific care requirements—and often a lower price point. Vinyl can be a wonderful choice for dining room furniture sets.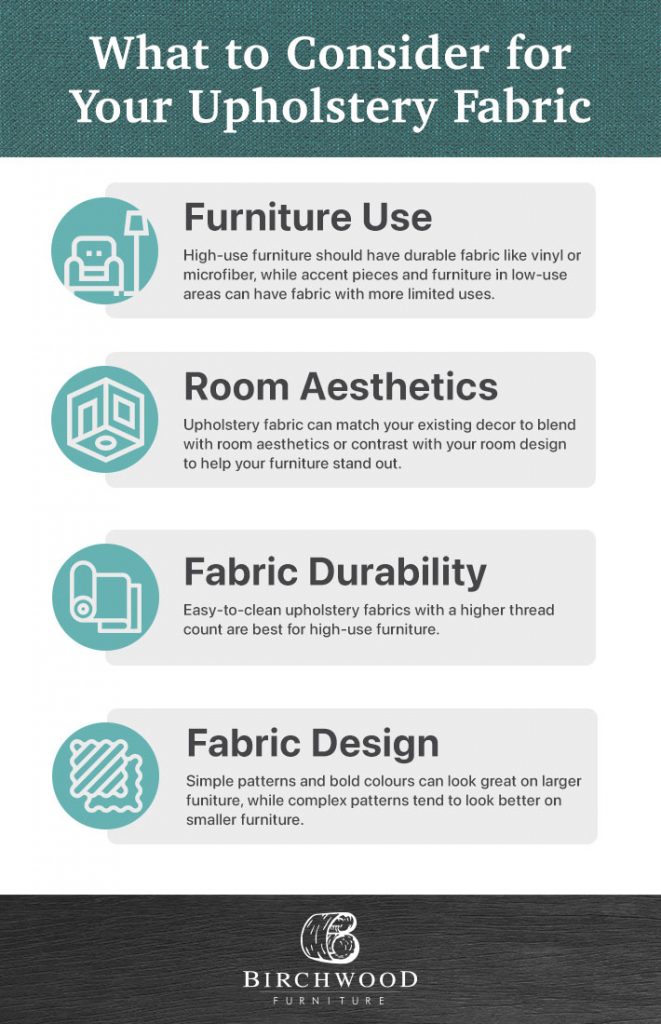 How Do You Choose Furniture That Meets Your Needs?
From selecting the right upholstery material to picking furniture for dark wood floors or an awkward living room, making the right choice can be challenging. As your local furniture experts, our team at Birchwood Furniture is here to help.
We can use our experience and expertise to help you evaluate your furniture needs and find the right pieces for every area of your home. Visit us to browse our selection of furnishings in person and get help choosing the right custom pieces for your needs.