The family room is the heart of any home. It is a place to gather, enjoy time together, make memories, and relax in comfort.
When it comes to furnishing a family room, it is important to take into account style, function, and durability. You can create a family-friendly space with your choice of seating, fabric, and layout to best complement your lifestyle.
Use the following tips to make the most out of your space to enjoy time with your loved ones. If you are in need of inspiration and ideas, you can visit the friendly staff at the Birchwood Furniture showroom.
Seating & Layout
Envision how your loved ones are enjoying the family room. Are they cuddled up watching a TV show or gathered around the coffee table playing games? When it comes to choosing seating options, consider the layout.
Don't be afraid to fill the room with a large sectional as an option to fit the whole family on movie night. Another layout to consider is arranging your sofa and chairs to face each other to encourage more conversation amongst your loved ones.
No matter what layout you decide to do, comfortable seating allows your family room to be a space for relaxing and enjoying. Consider choosing furniture that is soft instead of hard or rigid.
The Right Fabric
When deciding on what furniture to fill your space, choosing the right fabric for your family and lifestyle is a key step in the process. Some things to take into consideration when choosing fabric for your family room furniture:
Colour—when selecting a quality-made, timeless piece of furniture, you may want to consider a neutral colour to stand the test of time. If you are looking for an exciting way to inject your style into the room, choose a pop of colour or pattern.
Pet Hair—consider a fabric pet hair that will not cling to or stand out on. For example, if you have a pet with black hair, it may stand out on a white couch.
Child-Friendly—it is no secret that children know how to make a mess. You'll want to consider how durable the fabric is, if it is stain-resistant, and easy to clean.
Durability—the family room is a high-traffic area. The fabric's durability is important for a piece of furniture that will be used often.
Pieces That Double As Storage
A family room can be a place to play and make memories with your kids. To avoid clutter from games and toys, consider furniture that also doubles as storage space.
An ottoman can not only be a beautiful centrepiece of your living space or a spot to kick your feet up and relax; it can be a spot to house the kids' toys when not in use.
Another option is choosing an entertainment unit for more shelving space and cabinets to house board games and books to minimize clutter.
Spaces for Entertainment
When creating an entertainment space, you may want to factor in your technology. If your TV is the focal point of the room, a quality entertainment unit can provide a spot for your family to gather around during movie night.
Having an open concept to create areas for play may also be ideal for your family's lifestyle. Add in the right area rug to complement the room, and don't overcrowd your space to allow your little one's imagination to run free with enough room to move around.
Timeless Pieces
When you invest in timeless furniture that lasts, you provide a space for your family to enjoy for many years. It can be passed through generations and evoke strong memories of enjoying time together.
A timeless piece can last through the trends. You can always add elements of your personal style with a pop of colour through throw pillows, artwork, family photos, and other furnishings.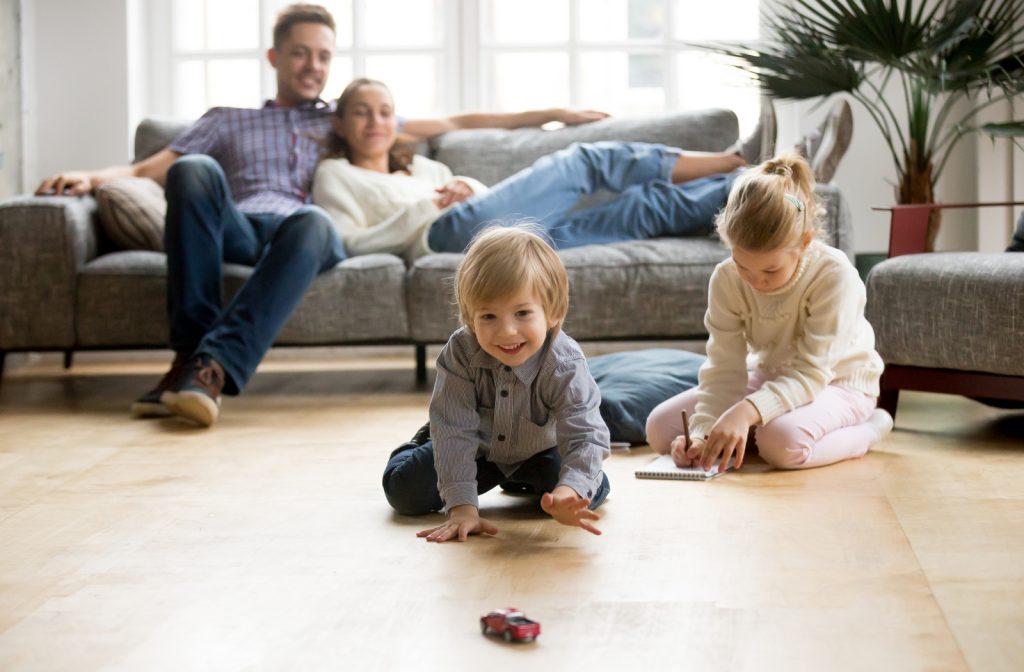 Creating a Family-Friendly Space
Laugh, play, and relax in comfort.
When your furniture is made with quality materials and extra sturdy construction, you can have confidence it can be well-loved and stand the test of time.Enjoy the design process of furnishing your family and make the space your own. Think about your lifestyle and how the furniture can enhance your space. If you are in need of inspiration or assistance, the design experts at Birchwood Furniture are available for guidance.